Les Tomkins obituary | Music | The Guardian
https://www.theguardian.com/music/2020/may/10/les-tomkins-obituary

Les Tomkins obituary
Richard WilliamsSun 10 May 2020 12.51 EDT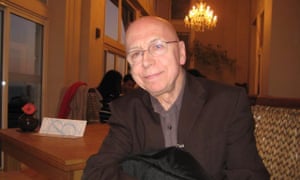 Les Tomkins in 2016. His early interviews were in Melody Maker and Jazz News, before he switched to Crescendo
During his long career as a magazine journalist, Les Tomkins compiled an archive of more than a thousand interviews with jazz musicians, many of them significant figures in the music's history. Those who answered his questions included Louis Armstrong, Duke Ellington, Dizzy Gillespie, Miles Davis, Oscar Peterson, Peggy Lee, Benny Goodman, Stan Getz, Dave Brubeck, Stephane Grappelli and Woody Herman.
Tomkins, who has died aged 89, was most closely identified with Crescendo International, a monthly magazine founded in 1962. His interview with Peterson was featured in its first issue; from 1966 to 1970 he served as its assistant editor and then as editor until 1988. In his later years he wrote for The Jazz Rag.
He was born in Brixton, south London, to Charles, a printworker, and Rosa (nee Dodt), and brought up in Carshalton, Surrey. Educated at Sutton County grammar school, he worked as a junior reporter on the Croydon Advertiser before joining an advertising agency, where he was employed for many years as a costing accountant.
Exposure to boogie-woogie pianists during his schooldays turned him into a jazz fan. In 1950 he started a Monday-night jazz club in Sutton, featuring John Dankworth, Ronnie Scott and Tubby Hayes among the live performers. His earliest interviews were published by the Melody Maker and Jazz News before he transferred his allegiance to Crescendo, where the emphasis was on big bands and mainstream-modern jazz. "It was a small operation and essentially it fell to me to fill the pages," he remembered. Several generations of musicians found in him a sympathetic and knowledgable repository of their memories and opinions.
The possessor of perfect pitch, he was also a singer, often taking part in the Singers' Club sessions initially held in the upstairs room at Ronnie Scott's and later in the Royal George pub off Charing Cross Road.
He was married three times: first in 1948 to Gwendolyn Kekewich, with whom he had three sons and three daughters; second to Margaret Wheatley, with whom he had a son; and finally, in 1974, to Margaret Hains, with whom he had a daughter. The first two marriages ended in divorce. Margaret died in 2019, and one son, Alan, also predeceased him. He is survived by his children Marvin, Lorraine, Eve, Sharon, Neal, Glenn and Roz, and by four grandchildren and several great-grandchildren.
America faces an epic choice …
… in the coming year, and the results will define the country for a generation. These are perilous times. Over the last three years, much of what the Guardian holds dear has been threatened – democracy, civility, truth. This administration has cleared out science and scientists across all departments. America's reputation as a competent global leader is in peril. Truth is being chased away. But with your help we can continue to put it center stage.
Rampant disinformation, partisan news sources and social media's tsunami of fake news are no bases on which to inform the American public in 2020. We believe every one of us deserves equal access to fact-based news and analysis. So we've decided to keep Guardian journalism free for all readers, regardless of where they live or what they can afford to pay. This would not be possible without the generosity of readers, who now support our work from across America in all 50 states.
You've read more than 5 articles in the last six months. Our journalism relies on our readers' generosity – your financial support has meant we can keep investigating, disentangling and interrogating. It has protected our independence, which has never been so critical. We are so grateful.
We hope you will consider supporting us today. We need your support to keep delivering quality journalism that's open and independent. Every reader contribution, however big or small, is so valuable. Support the Guardian from as little as $1 – it only takes a minute. Thank you.
Unsubscribe | Update your profile | Forward to a friend

PLEASE NOTE: IF YOU DO NOT WISH TO BE ON THIS MAILING LIST PLEASE RESPOND WITH 'REMOVE' IN THE SUBJECT LINE. IF YOU ARE RECEIVING DUPLICATE EMAILS OUR APOLOGIES, JAZZ PROMO SERVICES ANNOUNCEMENT LIST IS GROWING LARGER EVERY DAY…..PLEASE LET US KNOW AND WE WILL FIX IT IMMEDIATELY!

Copyright (C) 2020 All rights reserved.

Jazz Promo Services

269 State Route 94 South

Warwick, Ny 10990