Click to view this email in a browser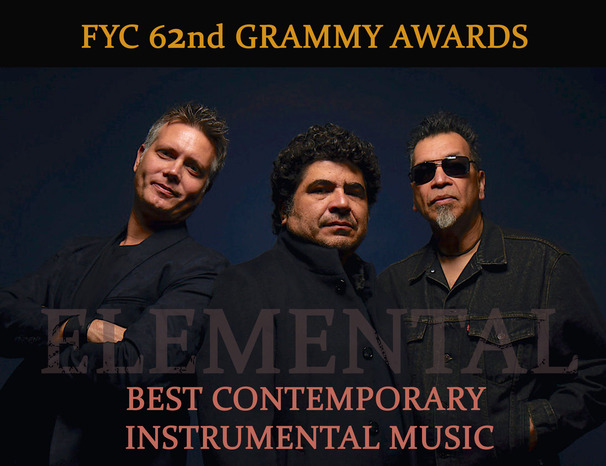 FYC: 62nd GRAMMY AWARDS

ELEMENTAL
is in the preliminary ballot at the 62nd GRAMMY AWARDS.
Please consider our project in the following categories:


*Best Contemporary Instrumental Album

(click here to listen)







*Best Improvised Jazz Solo: 
(Otmaro Ruiz, Jimmy Branly & Jimmy Haslip in individual entries)

*Best Instrumental Composition:  
*Best Engineered Album:
 
(Jimmy Branly / Rich Bree
n)
Thank you in advance for your immense support.
Otmaro Ruiz, Jimmy Haslip and Jimmy Branly

---

20th LATIN GRAMMY AWARDS –
DOUBLE NOMINATION!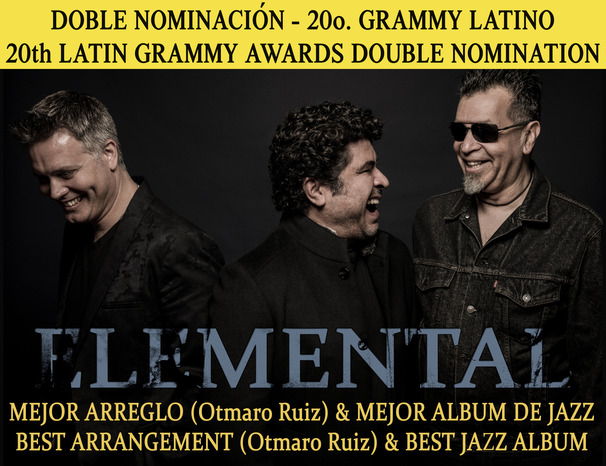 We are excited to announce that our album Elemental has been nominated for two LATIN GRAMMY AWARDS:


"I especially loved "Red Wall" with its dark undertones and Yoruban feel"



(Smooth Jazz Magazine – Avzal Ismail)


Click here to listen on sound cloud

"Elemental is a current jazz classic bringing elements of old and new to keep fans on their toes. (…)  

Elemental

 is a fusion of the most talented jazz artists of our time. More than that, though, the resulting sound is clearly greater than the sum of it's parts." (Travis Prescott, All About Jazz)

"These guys slap some soul on the sauce." (George W. Harris, Jazz Weekly)

"Superb in every respect, this is a MUST HAVE in your collection" (
Avzal Ismail, Smooth Jazz Magazine)


Elemental by Otmaro Ruiz, Jimmy Branly, and Jimmy Haslip is for die hard fans of fusion jazz, an elite circle of jazz connoisseurship. (Hans-Bernd Hülsmann, First
View)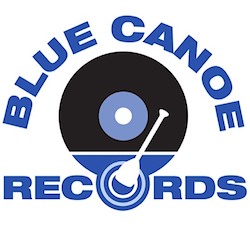 "Incredible compositions, playing, inter-play and production. This is a phenomenal album for fans of great music (jazz/fusion aficionados will especially love this). Everyone needs this album!" 


(Joseph Patrick Moore, Blue Canoe Records)


---
If you no longer wish to receive these emails, please reply to this message with "Unsubscribe" in the subject line or simply click on the following link:
---

Blue Canoe Records
P.O. BOX 777143
Henderson, NV 89077
US
Read the VerticalResponse marketing policy.