Jazz Nativity


SUNDAY, DECEMBER 17, 2017 at 7:00
pm
Chelsea Opera & Kindred Spirits present…
Get your tickets today!
Preferred – $50 adv only (limited)
Student/Child* – $25adv/$30 door

Seniors
(Gen'l Admission only
)

– $25adv/
$30 door
Help keep the music & tradition alive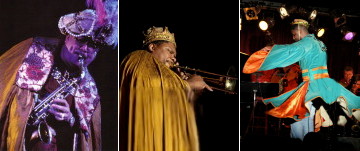 Paquito D'Rivera – clarinet Wycliffe Gordon- trombone Maurice Chestnut – tap
Special guests: young tappers – The Foreman Twins
meet all the performers
"Bending Towards the Light … A Jazz Nativity" is the Christmas story told through the wonderfully expressive medium of jazz and opera with a cast of today's greatest singers and players. There is abounding joy when the Three Kings enter to present the gift of their talent!
"
By the end of "The Jazz Nativity" you know you've been through something wonderful…a stirring celebration of Christmas" Dr. Billy Taylor, CBS Sunday Morning
"None of the classics is half so giddy, nor so utterly entertaining as "The Jazz Nativity" that burst onto the stage of Orchestra Hall " Howard Reich, Chicago Tribune
"Incredible show! You deserve an award! Our children couldn't stop talking about it!"
Arthur Mills, NYC Office of the Mayor
SUNDAY, DECEMBER 17, 2017 at 7:00
pm
120 W 69TH ST, NYC
(between Broadway/Columbus Ave)



Composed by Anne Phillips

Directed by Beth Ann Kennedy

Additional music and lyrics by Dave and Iola Brubeck,

Bob Kindred, and Henry Timm

Anne Phillips
Chelsea Opera and Kindred Spirits are
501(c)(3) tax exempt organizations. A
ll gifts are fully
tax deductible.
Please
consider a fully tax deductible gift today.

Help us keep the tradition going……Send your gift payable to:

Chelsea Opera, Inc. or Kindred Spirits
PO Box 277 170 West End Ave
Old Chelsea Station 16D
NY, NY 10113-0277 NY, NY 10023
give to Chelsea Opera: give to Kindred Spirits:
Kindred Spirits – Jazz Nativity -Children's Jazz Choirs
PO Box 277 – Old Chelsea Station – New York, NY 10113-0277