March 21, 2011
To: Listings/Critics/Features
From: Jazz Promo Services
Press Contact: Jim Eigo, jazzpromo@earthlink.net
Roger Davidson & David Finck CD Release Wed. Mar. 30th 7PM to 9PM at Caffe Vivaldi
32 Jones Street
(Off Bleecker Street, near Seventh Avenue)
New York, NY 10014
(212) 691-7538
Roger Davidson & David Finck
The Music Of Michel Legrand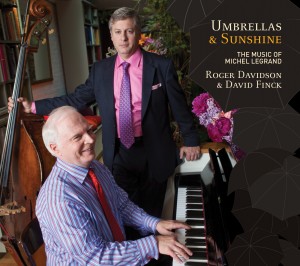 French composer Michel Legrand has written some of the most memorable romantic music on film. Many of his songs have long since become jazz and pop standards. In Umbrellas and Sunshine, pianist and composer Roger Davidson and bassist David Finck offer a deeply original, intimate take of Legrand's music – stories of love found and lost, elegantly whispered, swinging, among friends.
Since starting his career in the '70s, French-American pianist and composer Roger Davidson has been as voracious in his musical curiosity as Michel Legrand — and just as fearless in his reach. Davidson's writing include symphonies and choral music, small-group jazz, Klezmer, tango and a bounty of Brazilian-flavored songs. In all his work, as in Legrand's, melody reigns. It was bassist David Finck, who suggested to Davidson exploring an album's-worth of Legrand's songs. The pianist was all for it.
"I feel a tremendous kinship with Michel Legrand," says Davidson. "Legrand is French, and so am I. He is a very romantic composer; he writes music with feeling. We both love to write melodies. Like everyone else, I heard his tunes played over and over by many wonderful musicians, and I started playing them myself." The result is Umbrellas and Sunshine, a celebration of Michel Legrand, romance, and swing.
National Publicity Campaign Media Contact
Jim Eigo Jazz Promo Services T: 845-986-1677 E-Mail: jazzpromo@earthlink.net
National Radio Campaign: Mike Hurzon Tracking Station
trackst@bellsouth.net 305-669-2677