TICKETS & INFO
Herbie Nichols Tribute,
Steve Swell, trombone
Bernard "Pretty" Purdie, drums
David Haney, piano
Adam Lane, bass
February 15, 2020
JAZZ AT KITAN
O
66 PARK AVE (E.38 ST)
NEW YORK, NY.
SHOWS 8 PM & 10 PM
Cover $34.+ $20 minimum Food/Bev
RESERVATIONS HIGHLY ADVISED
212 885 7119
www.kitano.com/Jazz-Schedule
THE MUSIC OF HERBIE NICHOLS:
a night dedicated to the beautiful and exotic tunes of the great 50's pianist and composer.
.

BERNARD PURDIE the world's most recorded drummer, was born June 11, 1939 in Elkton, Maryland as the eleventh of fifteen children. Purdiemoved to New York in 1960 and soon after recorded his first hit, with King Curtis. This led to his engagement with Aretha Franklin in 1970, which marked the beginning of an unparalleled career. Since then, Purdie has worked with a vast array of artists, such as Paul Butterfield, Larry Coryell, Miles Davis, Hall & Oates, Al Kooper, Herbie Mann, Todd Rundgren and Cat Stevens, as well as regularly producing his own solo albums.


"Haney and Purdie fit together like interlocking parts of a jigsaw puzzle. The drums gives a center to the piano's drifting improvisations and the piano creates fantastic shapes about the drum foundation. These two makes a really strong and fascinating team." Cadence Magazine

with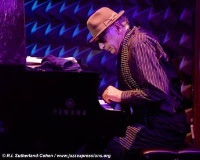 DAVID HANEY
Haney studied composition for six years with Czech composer, Tomas Svoboda and presented works with the Society of Oregon Composers, Haney has worked with such featured artists as Andrew Cyrille, Roswell Rudd, John Tchicai, Bud Shank, Bernard Purdie, Buell Neidlinger, Julian Priester, Han Bennink, Obo Addy, Wilbert de Joode, Gerry Hemingway, Wolter Weirbos, Perry Robinson, and Johannes Bauer. Haney has recorded 14 albums for C.I.M.P. Records and Cadence Jazz Records . David has also collaborated on 14 albums on other labels worldwide. He has received grants and commissions for his creative work from the U.S. State Department; Alberta Film Works; and the Oregon Ballet Theatre. Haney was awarded a travel grant from the U.S. State Department to present the music of composer Herbie Nichols in concerts throughout Argentina and Chile. Haney's piano/trombone work Ota Benga of the Batwa was included in the critics pick for best Jazz Album of 2007 (Coda Magazine). "Conspiracy a go go" and "Clandestine" were both selected Top Ten Jazz Albums of 2009 (Cadence Magazine). David's current release "Solo" received top ten honors in 2014 (Cadence Magazine). The Penguin Guide to Jazz has a half page entry on several David Haney albums.
Jazz at Kitano's presents trombone great Steve Swell with the drumming great Bernard Purdie, pianist David Haney, and bassist Adam Lane. Check out this fantastic quartet playing the music of 50's hard bop master Herbie Nichols.

Herbert Horatio Nichols (3 January 1919 – 12 April 1963) was an American jazz pianist and composer who wrote the jazz standard "Lady Sings the Blues".

Obscure during his lifetime, he is now highly regarded by many musicians and critics

In 1955 Herbie recorded a large selection of pieces with Max Roach others for Blue Note Records. In later years passed on 27 of his unpublished manuscripts to friend and trombonist Roswell Rudd. Herbie died at age 44 of leukemia, in the early 1960s. Roswell went on record the pieces and publish them..

Tonight's show features several of the pieces from Roswell's collection. Pianist David Haney learned these tunes from Rudd while on tour together in Canada in 1998. Haney has since performed Nichols music worldwide, receiving a travel grant from the US government to present the music of Herbie Nichols in Argentina and Chile in 2002.
Steve Swell, Born in Newark, NJ, Steve Swell has been an active member of the NYC music community since 1975. His breadth of versatility has allowed him to tour and record with such mainstream artists as Lionel Hampton and Buddy Rich in the past, as well as more contemporary artists like Anthony Braxton, Bill Dixon, Cecil Taylor and William Parker. He has over 50 CDs as a leader or co-leader and is a featured artists on more than 125 other releases. He runs workshops around the world and is a teaching artist in the NYC public school system focusing on special needs children.

Steve was nominated for Trombonist of the Year 2008 & 2011 by the Jazz Journalists Association, was selected Trombonist of the Year 2008-2010 , 2012 and 2014-2019 by the magazine El Intruso of Argentina and received the 2008 Jubilation Foundation Fellowship Award of the Tides Foundation. Steve has also been selected by the Downbeat Critics Poll in the Trombone category each year from 2010-2018.
ADAM LANE
By combining a disparate set of influences into a unique improvisational voice, Adam Lane has become recognized as one of the most original creative voices in contemporary jazz. His 2006 recording New Magical Kingdom, was recently featured in the Penguin Jazz Guide 1001 Best Records Ever Made, and his most recent recording, Ashcan Ranting received a myriad of critical praise including four stars in Downbeat.

"Lane's music is genuine, accessible, fun. The music is deeply in touch with the essential pleasures of earwig-worthy tunes, fat bluesy grooves, and sheer tonal beauty." (Downbeat Jan 2011)
This E Mail is being sent by:

Jim Eigo Jazz Promo Services
272 Ste Route 94 S #1 Warwick, NY 10990
T: 845-986-1677
E-Mail:
jim@jazzpromoservices.com
Web Site:
www.jazzpromoservices.com/
HAVE A JAZZ EVENT, NEW CD OR IMPORTANT ANNOUNCEMENT FOR THE JAZZ COMMUNITY YOU WANT TO PROMOTE? CONTACT JAZZ PROMO SERVICES FOR PRICE QUOTE.

CHECK OUT OUR NEW YOUTUBE VIDEO
HERE