| | | |
| --- | --- | --- |
| | | |
Astoria Characters: The Sax Player
A pair of pinstriped pants is hanging from the lamp. A breakfast bowl of oatmeal, half eaten, sits at the desk. A mini-trampoline, turned on its side, issues a challenge to a pair of five-pound free weights. A keyboard, clarinet, flute and a couple of saxophones are aching to band together to sing their stuff.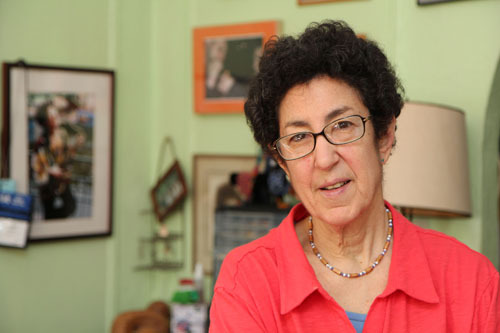 Photo by Nancy A. Ruhling

Carol is the founder of Astoria Big Band.
Carol Sudhalter, the founder of Astoria Big Band and the quartet that bears her name, walks into this improv stage, which is her living room and the room she does most of her living in.
She hoists Betty, a big brassy baritone sax, and cradles it in her arms like a baby.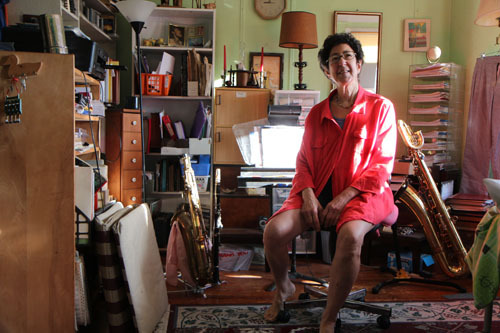 Photo by Nancy A. Ruhling

Carol's apartment is filled with music and memorabilia.
A reed-thin woman with a tightly wound crop of iron-thick curls and deep brown-black eyes, she manages to do this without looking awkward.
Betty, she remarks, is a big girl who has a full-throated, feminine voice. The other smaller sax, a tenor that Carol hasn't named, makes more macho music.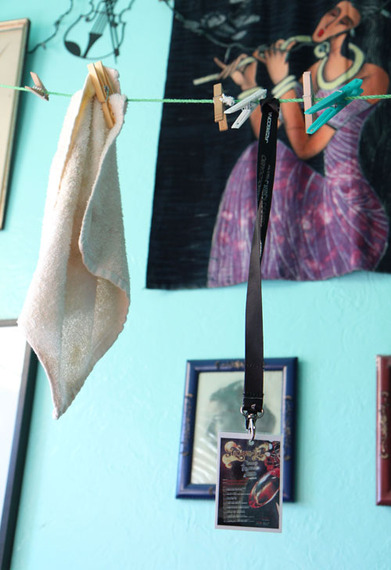 Photo by Nancy A. Ruhling

Music and mundane life intersect.
There's this funny thing that happens when Carol smiles: She squints. When she's holding Betty, her eyes turn into slits.
She's grinning because she wasn't supposed to be a sax player. Or, for that matter, any kind of professional musician.
Her father, Albert, was a noted sax player, and her brother Dick was a trumpeter and music scholar/critic. Her other brother, Jimmy, switched from the sax to business. Their history, as well as hers, plays out in her apartment.
Family photos line the walls. Dick's books are in the cabinet with her CDs. And her father's pipes are displayed by her music stand.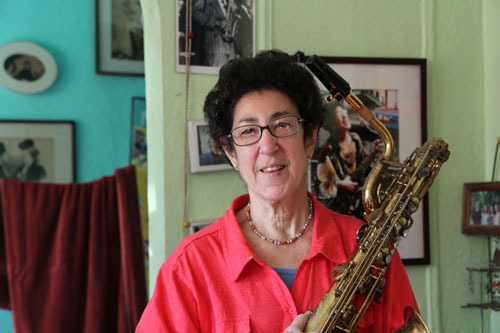 Photo by Nancy A. Ruhling

Carol with her sax Betty.
But Carol's parents, children of East European Jews, had a different career in mind for their only daughter. They didn't realize that Carol, who learned her steady scales at the piano bench, wasn't interested in playing the role of wife and mother.
"I came close so many times to getting married," she says, "but I always ran away from it at the last minute."
When it came time for college, she left her home in Newton, Massachusetts and enrolled in Smith College in Northampton as her parents instructed her to do.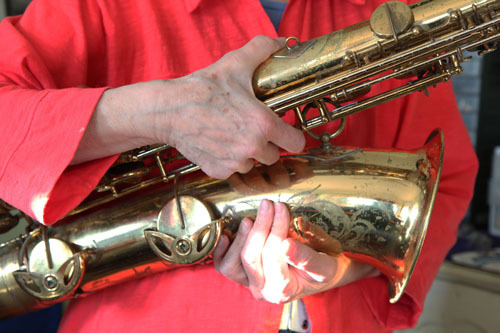 Photo by Nancy A. Ruhling

Hands of steel, on brass.
She studied biology, which, she hoped, would lead to steady employment.
The thing was, she got very depressed the summer before her senior year. Therapy and playing the flute made her feel better.
"The music made me so happy I was flipping out," she says.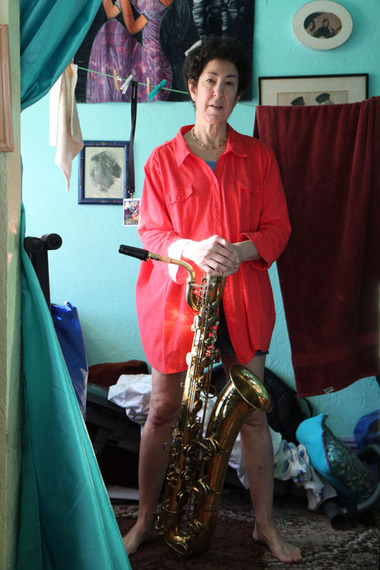 Photo by Nancy A. Ruhling

Carol started playing the sax 40 years ago.
When she graduated, she took a government writing job in Washington, D.C. She stuck it out only six months.
"I was having more fun moonlighting at clubs," she says.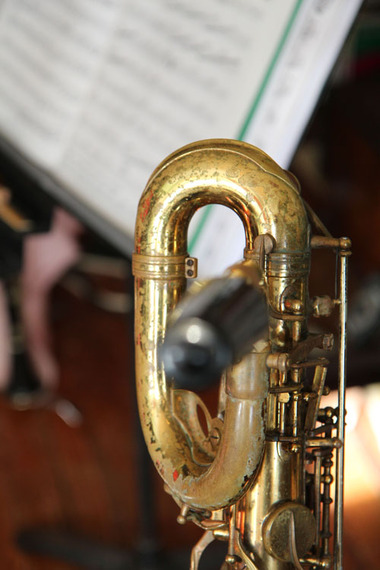 Photo by Nancy A. Ruhling

The sax waits solo.
In short order, she moved back to Northampton and began taking music lessons. Her studies — and gigs — took her to Italy and a variety of venues near and far.
It was at this time that she established the pattern that put her on her life's path: work at anything and everything during the day (as a house cleaner, typist, secretary, Italian translator, medical transcriptionist and even music teacher) and jam jazz into the evening hours.
In 1978, she came to Manhattan to play in a band and two years later settled into the second-floor walkup she shares with her band of instruments and revolving roommates.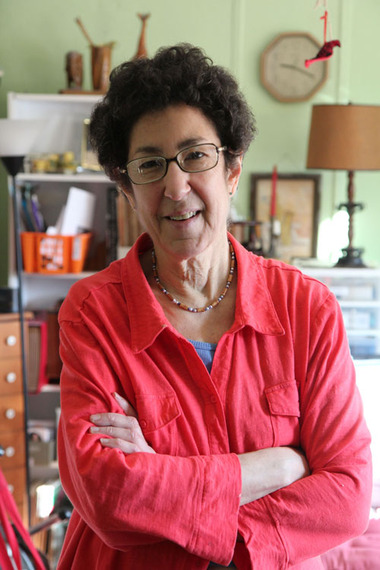 Photo by Nancy A. Ruhling

Carol wants to study arranging and composing.
She focused on the flute until her father died some 40 years ago.
"The sax was his instrument," she says. "He was such a perfectionist — he kept practicing the same parts over and over — that I never felt free playing it. It was at his funeral that I decided to pick it up."
She brings out his sax. It's a Selmer "Balanced" that she declares has a "beautiful, dark sound." She got it from her brother Dick, who inherited it.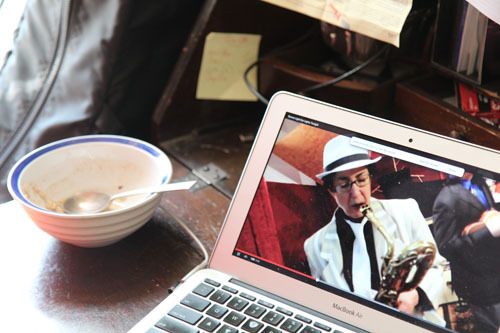 Photo by Nancy A. Ruhling

Carol playing Gonna Light the Lights Tonight.
"I love performing," Carol says. "It gives me the chance to play beautiful tunes with excellent players; it's an honor to play the tunes. And it gives me the chance to reach people."
In the mornings, Carol rehearses and tends to bookings and other band business.
She devotes her afternoons and early evenings to teaching flute, saxophone and piano in the homes of her students, most of whom live in Queens and Long Island.
She's not booking as many gigs as she used to. She sounds sad when she says this.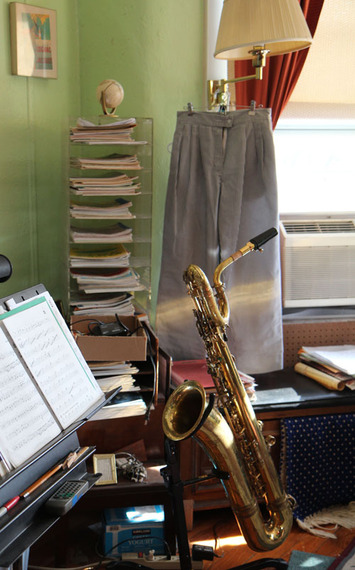 Photo by Nancy A. Ruhling

The stage is empty.
"Many of the clubs don't hire bands any more," she says. "They want them to play for free, promising them exposure in exchange. At this point, if I want more exposure, I'll take off my clothes."
She's not going to fret about this. Instead, she's decided to study composing and arranging.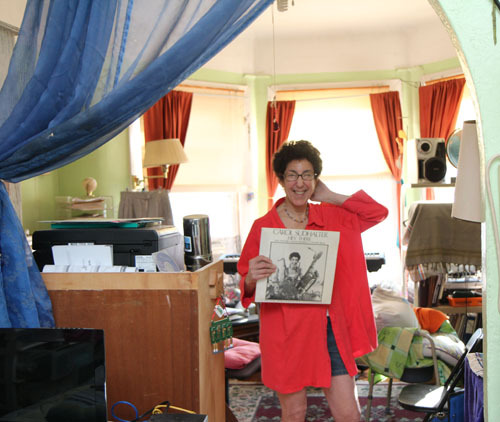 Photo by Nancy A. Ruhling

Where did the last 50 years go?
When Carol thinks over her musical journey, she's amazed that she has managed to do what she loves for more than a half century.
"It's been interesting," she says. "And everything gets more pleasant as the years go by."
Reluctantly, she places Betty, mute, back in the music stand.
Nancy A. Ruhling may be reached at Nruhling@gmail.com, nruhling on Instagram.

Copyright 2015 by Nancy A. Ruhling
Follow Nancy Ruhling on Twitter:www.twitter.com/NancyRuhling