Buddy Catlett, 1933-2014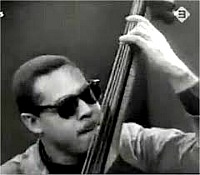 I was saddened to learn on the road that Buddy Catlett died yesterday. I remember him looking as he does in this photograph made around the time we were both involved in Seattle's vibrant jazz community in the early-to-mid 1950s. He left town to work with a variety of large and small bands. By the end of the decade Buddy had joined the big band his childhood friend Quincy Jones took to Europe that also included Seattleites Floyd Standifer and Patti Bown. For an obituary, read the Seattle Times article by Paul de Barros, the leading chronicler of Seattle's rich jazz history.
Buddy solos on Thelonious Monk's "Straight No Chaser" with a combo from the Jones band in 1959. His companions are Phil Woods, alto saxophone; Clark Terry, trumpet; Patti Bown, piano; Quentin Jackson, trombone; Sahib Shihab, flute; and Joe Morris, drums.
Buddy Catlett, RIP.