https://www.wbgo.org/post/connie-lester-soulful-saxophonist-and-quiet-anchor-newark-jazz-scene-dies-88#stream/0
Connie Lester, Soulful Saxophonist and Quiet Anchor of the Newark Jazz Scene, Dies at 88
By Nate Chinen • Aug 22, 2019
Connie Lester, whose robust and affirming style on saxophone proved a perfect fit for the soul jazz of the 1960s and beyond — notably in organ combos, and especially around a thriving scene in Newark — died on Tuesday in Edison, N.J.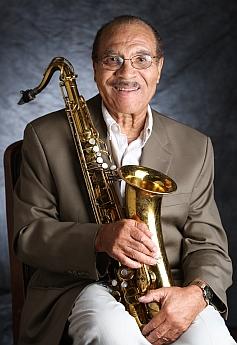 He was 88. His death was confirmed by his daughter Toni Lester, who did not provide a cause.
An authoritative voice on alto, tenor and soprano saxophones, Lester also played clarinet and piano. He formed a sterling reputation as a sideman, over the course of a long career largely based in his home state of New Jersey.
He appears on a 1962 album by singer Joe Carroll, Man with a Happy Sound, alongside some of the leading musicians of the era, like pianist Ray Bryant and guitarist Grant Green.
But found his strongest niche with Hammond B-3 organ players, including Larry Young and Rhoda Scott. He appears, credited as Conrad Lester, on two Blue Note albums by organist Freddie Roach. On the first of these, a classic 1963 outing called Mo' Greens Please, Lester's rhythmic poise and bebop fluency are apparent with every phrase he plays. Here is the album closer, a cover of the Top 40 pop hit "Two Different Worlds."
Lester is also featured on Roach's 1964 Blue Note album All That's Good, in a band that includes guitarist Calvin Newborn, drummer Clarence Johnston and vocalists Phyllis Smith, Marvin Robinson and Willie Tate.
As the swinging soul-jazz era of the '60s led to a more backbeat-driven model in the '70s, Lester didn't lose a step. He did some stalwart work in that decade with organist Jimmy McGriff, notably on a 1974 album for the Groove Merchant label.
That album, Main Squeeze, features Lester with two of his fondest musical partners, guitarist Jimmy Ponder and drummer Eddie Gladden. The balance of strength and elegance in Lester's sound is well captured on this version of "Misty"; he begins his alto solo two minutes into the track, snapping a dreamy reverie into focus.
Whatever the stylistic requirements of the gig, Lester was known for an emotional directness in his style — a quality that spoke to the depth of his training in the black community, as Bob Porter articulates in his book Soul Jazz."If the history of soul jazz must be told in the music of its biggest stars and most successful performers," reflects Porter, "it doesn't mean that there were not dozens of others who contributed quality music to the scene."
Samuel Conrad Lester was born in Roselle, N.J., on June 12, 1931. He was mostly self-taught as a musician, picking up the clarinet and the saxophone during his elementary years. Among his early heroes were Lester Young and Charlie Parker, respectively the leading saxophonists of the swing and bebop eras; his own style would draw from both examples.
Lester happened to come up at a time when Newark was exploding with jazz talent and well stocked with clubs like the Key Club and Sparky Js, on the same stretch of Halsey Street. He was in his early 20s when he got his first gig at Lloyd's Manor, a bebop stronghold on Beacon Street.
According to Barbara J. Kukla's history Swing City: Newark Nightlife, 1925-50, Lloyd's was a headquarters for three jazz modernists who fed off each other's vibe — James Moody, Babs Gonzales and Danford (Larue) Jordan. Of the three, Jordan made the biggest impression on young Lester. "A lot of my phrasing comes from Larue," he told Kukla. "He did some strange things."
Lester's bond with the Newark scene of his youth was abiding, even as he became a veteran and mentor himself. He was a member of the Newark Jazz Elders, formed in 2002 by reporter and historian Guy Sterling, as a showcase for Lester's valiant peer group. ("A quiet, dignified man and a thorough professional" is how Sterling characterized the saxophonist this week.)
Lester is survived by his wife, Melba; two daughters, Toni and Traci Lester; a granddaughter, Hailey Lester; and many nieces, nephews and cousins.
Among his honors was a proclamation from the City of Newark, for "decades of contributions to the residents of this great metropolis through music and the sounds of jazz." In 2007 the state of New Jersey issued a proclamation to the Newark Jazz Elders, citing "their extraordinary contributions to the cultural richness of our largest city, our state and our country."
Throughout his career, Lester took particular pride in his early experience on the bandstand, at places like the Key Club. "If you didn't know your horn," he says in Swing City, "you couldn't come to Newark."