https://www.theguardian.com/music/2020/mar/29/composer-krzysztof-penderecki-dies-aged-86?mc_cid=1e7e8f7865

Influential composer Krzysztof Penderecki dies aged 86
Polish musician won numerous awards, scored The Exorcist, and was admired by rock stars
Imogen TildenLast modified on Mon 30 Mar 2020 03.57 EDT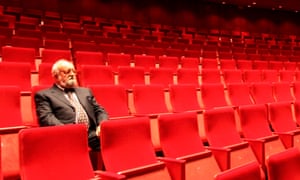 Krzysztof Penderecki at the Kraków opera house in 2008. Photograph: Jacek Bednarczyk/EPA
Leading composer and conductor Krzysztof Penderecki has died at the age of 86 after a long illness, his family announced this morning.
The Polish-born Penderecki was a major figure in contemporary music whose compositions reached millions through celebrated film scores, which included for William Friedkin's The Exorcist, Stanley Kubrick's The Shining and David Lynch's Wild at Heart.
Penderecki's stated aim as an avant-gardist in the early 1960s was to "liberate sound beyond all tradition", and his emotionally charged experimental 1960 work Threnody to the Victims of Hiroshima, for 52 strings, brought him to international attention and acclaim when he was only 26. Over a long career he has also written operas, choral works and concertos, and won multiple awards, including four Grammys, most recently for best choral performance in 2016.
One of his best known fans is Radiohead's Jonny Greenwood, who collaborated with the composer in 2012. "His pieces make such wonderful sounds," said Greenwood. "I think a lot of people might think his work is stridently dissonant or painful on the ears. But because of the complexity of what's happening – particularly in pieces such as Threnody and Polymorphia, and how the sounds are bouncing around the concert hall, it becomes a very beautiful experience when you're there. It's not like listening to feedback, and it's not dissonant. It's something else. It's a celebration of so many people making music together and it's like – wow, you're watching that happen."
Penderecki had been tested for coronavirus after his carer was diagnosed with the illness, but the composer's result was negative, his daughter Beata Penderecka said.
America faces an epic choice…
… in the coming year, and the results will define the country for a generation. These are perilous times. Over the last three years, much of what the Guardian holds dear has been threatened – democracy, civility, truth. This US administration is establishing new norms of behaviour. Anger and cruelty disfigure public discourse and lying is commonplace. Truth is being chased away. But with your help we can continue to put it center stage.
Rampant disinformation, partisan news sources and social media's tsunami of fake news is no basis on which to inform the American public in 2020. The need for a robust, independent press has never been greater, and with your support we can continue to provide fact-based reporting that offers public scrutiny and oversight. You've read more than 16 articles in the last four months. Our journalism is free and open for all, but it's made possible thanks to the support we receive from readers like you across America in all 50 states.
Our journalism relies on our readers' generosity – your financial support has meant we can keep investigating, disentangling and interrogating. It has protected our independence, which has never been so critical. We are so grateful.
We hope you will consider supporting us today. We need your support to keep delivering quality journalism that's open and independent. Every reader contribution, however big or small, is so valuable. Support the Guardian from as little as $1 – it only takes a minute. Thank you.