James Last obituary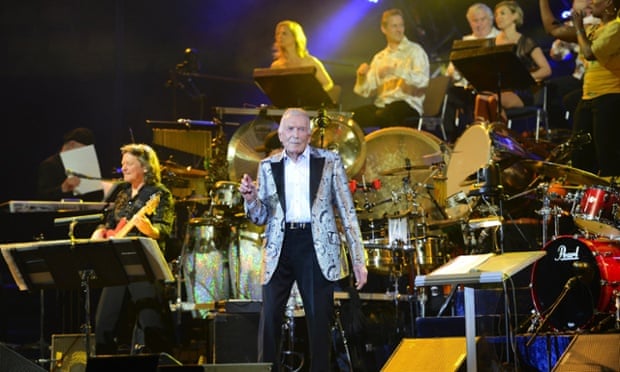 ADVERTISEMENT
James Last, who has died aged 86, was the most commercially successful bandleader of the decades following the second world war. He inspired both devotion and loathing among pop music fans, thanks to his unique ability to transform music of almost any form into his own style of easy listening.
A James Last concert would include anything from light classical and jazz favourites through to ballads, polkas, waltzes, a James Bond theme or pop numbers by anyone from the Beatles or Hawkwind to Marvin Gaye, all blended together into a seamless, jaunty fusion. It was a formula that led him to be derided as the Emperor of Elevator Music, but won him sales of over 100m albums around the world. He was awarded so many gold and platinum albums that his record company admits that it lost count.
Devotees of Last's music point to his skill in incorporating contemporary trends into his music (his repertoire even included a piece entitled Hip Hop Polka 2), and the way in which he made use of audience participation and response during his shows. With a band that included a 16-piece string section, nine-piece brass section and six-member choir, the so-called Gentleman of Music tried to transform his concerts into a good-natured party, for which he, as conductor, provided the slick, cheerful and upbeat soundtrack.
Those who were less impressed with Last's easygoing, jovial approach complained bitterly that he made music of all types sound exactly the same. One self-styled James Last Hater even posted a page on the internet explaining how his loathing of Last had inspired him to become a punk back in the 1970s and how he then feared that Last might record the "Non Stop Punk Party Album".
The James Last Orchestra at the BBC, 1976
He was born Hans in Bremen, Germany, the youngest of three sons of Louis Last, a post-office worker, and his wife, Martha. At the age of 10 he started piano lessons, and at 14 began playing double-bass.
The following year "Hansi" made his first public appearance, playing bass with the newly formed Radio Bremen Dance Orchestra. He had started out playing classical music, but became an avid listener to dance styles and the jazz that he heard while playing bass on the circuit of clubs for American servicemen that sprang up in Germany after the second world war.
In 1948 he formed the six-piece Last-Becker Ensemble, which included his two brothers, Robert and Werner, who had been highly influential in persuading him to become a professional musician. Within two years he was voted the best jazz bassist in Germany, an award that he won again in 1951 and 52.
After the group split up in 1956, Last moved on to join the North German Radio Dance Orchestra in Hamburg, and began writing his first arrangements for the orchestra, and for musicians including Caterina Valente and Helmut Zacharius. He explained his approach by saying "you have to recognise your limits and live within them. I recognised early enough that I was no Beethoven, so I do what I can, and that as good as possible."
The Abba medley from James Last's String of Hits, 2011
In 1964, he put together his own orchestra, and the following year demonstrated his highly commercial musical formula with his album Non Stop Dancing. This was original both in the way that it was "non-stop", in the sense that there was a segueing of the tunes, with no breaks, and in the way he used a live party atmosphere (the idea apparently borrowed from listening to concerts on Radio Copenhagen that included the background sound of tinkling glasses and talking).
Apart from his bravery in sticking with a large, expensive orchestra at a time when pop music was fast becoming dominated by far smaller rock bands, Last also proved astute in the range of the music he covered. He made sure that he always reflected the sounds of new performers somewhere in the set (even if those performers may not have liked what he did to their work). "When I started, the Beatles were being condemned by many of my fellow artists, but I realised very early on that you must rely on the new moods in society. New things matter. Living this way I stayed young forever".
A massively prolific artist, "Mr Happy Sound" recorded 52 hit albums between 1967 and 1986, and was credited with achieving sales surpassed only by Elvis Presley. He achieved his first British success in 1967 with the album This Is James Last, which remained in the bestsellers for an astonishing 48 weeks.
Though Last was a hard-working musician, he tried to make his life as easygoing as his music. He and his wife Waltraud (nee Wiese), whom he married in 1955, moved to Florida, where he could play golf and invite his musicians to join him at the James Last Sunshine Club. In the US he could also escape from the German press, who, in the early days at least, were never too enthusiastic about his success. "As a German", he complained, "you are nobody within your own border."
James Last, Gentleman of Music, 2001
Even that changed in the 90s, when Last was delighted to find that the pop fashion for easy listening had made him something of a cult hero – with some of his audience 40 years or more younger than himself. "Those who just listen to stuff like techno maybe get fed up with it and want to hear something else, which starts and ends with a melody." At the time he was recording an album of pieces by Tchaikovsky and Rachmaninov, and commented: "I'm proud of my age. I'll never have to fill in a crossword. I can always read the old sheet music".
In his later years, he continued to release albums, including Eighty Not Out, Music Is My World and My Personal Favourites, a double set released last year. And he continued touring, retaining a large fan base in Europe with his "happy music". In the UK, he made regular appearances at the Royal Albert Hall, London, where he gave a remarkable 90 concerts during his career.
The final two came on 31 March and 1 April this year, as part of a "farewell tour", much of it in Germany, that he had announced after falling ill last year. Last said at the time "the concerts will mark the end of this chapter in my life. The main thing is that my fans have the best concerts of their lives and we will make this our 'happiest' concert yet."
Two years after Waltraud's death in 1997, Last married Christine Grundner. She survives him, as do his daughter, Caterina, and son, Ronald, from his first marriage.
• James (Hans) Last, bandleader, born 17 April 1929; died 9 June 2015
• This article was amended on 12 June 2015. The reference to James Last's 90 appearances at the Royal Albert Hall being more than those of any other performer was deleted, since Eric Clapton has made more.