https://www.thewrap.com/jazz-legend-louis-armstrong-to-be-subject-of-next-film-from-imagine-documentaries/
Jazz Legend Louis Armstrong to Be Subject of Next Film From Imagine Documentaries
Brian Welk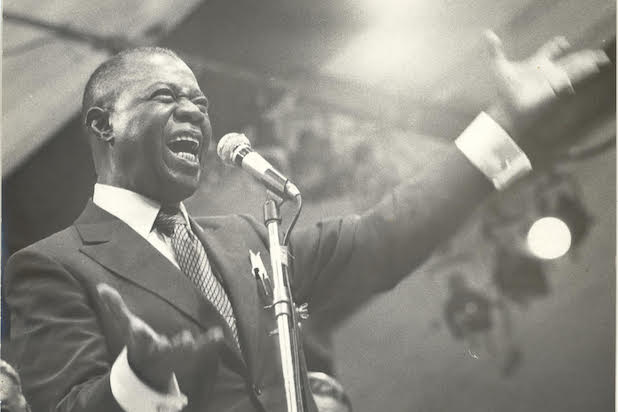 Photo by Jack Bradley, Courtesy of the Louis Armstrong House Museum
Following the release of "Pavarotti," the next music-centric, documentary film from Imagine Documentaries will focus on the life of jazz legend, singer and trumpeter Louis Armstrong, the company's president Justin Wilkes announced Monday.
Imagine will partner with the Louis Armstrong Educational Foundation to produce the "definitive" documentary on Louis Armstrong, also known as "Satchmo," "Satch" and "Pops." The foundation will provide access to hundreds of hours of audio recordings, film footage, photographs, personal diaries and ephemera for use in the film as part of the deal between the two companies.
Production is scheduled to commence on the currently untitled film this fall.
Also Read: What a Wonderful World: Louis Armstrong Is Getting a Bio Podcast From the 'Inside Jaws' Team
"I find it difficult to imagine a voice more globally recognized than that of Louis Armstrong," Wilkes said in a statement. "And yet, the story behind the voice; of the music, the man, and the impact he had on our world have never been fully recognized on film. As the song goes, we're honored to bring him 'back to where he belongs.'"
"This is a perfect time to remind the world of the power, depth and beauty in Louis Armstrong's music and story, especially as we celebrate fifty years of Armstrong's generosity in establishing the Foundation," Stanley Crouch, president of The Louis Armstrong Educational Foundation said in a statement. "He was born in poverty in one of the roughest neighborhoods in New Orleans, Louisiana. Absorbing the multilayered music and culture of that fascinating place and time, he went on to heal and educate the country and world with the depth of his playing, singing and undying belief in the value of our common humanity. The life and times, trials, tribulations and triumphs of Louis Armstrong still has much to show the world. He is an iconic genius whose rich musical, social and philosophical insights are timeless."
Armstrong was also an avid biographer, keeping a daily audio diary on reel-to-reel tape from the early 1950s to the day he died in 1971, and the film will chronicle those audio diaries as well.
Also Read: 'Pavarotti' Film Review: Ron Howard Doc Humanizes Opera Legend
Armstrong was one of the most influential jazz figures of his day and a chart-topping performer known for his raspy, gravelly voice, scat singing and his offstage charisma and wit, as well as an explosive temper. The New Orleans-born musician made seminal recordings with his mentor Joe "King" Oliver and would even knock The Beatles off the top of the charts in 1964 with a number one record that successfully reached a diverse audience in a racially divided America. He won one Grammy award and was also recognized posthumously with a Grammy for Lifetime Achievement, and he was further inducted into the Rock and Roll Hall of Fame.
Within the last year, Ron Howard and Brian Grazer's Imagine Documentaries arm also kicked off work on "DADS," a film about the recent California wildfires called "Rebuilding Paradise" and a film about NBA All-Star Dwyane Wade. The division recently teamed up with Apple to produce a slate of feature documentaries and docuseries, under an exclusive, first-look deal.
News of the documentary was first reported by Deadline.
14 Music Biopics in the Works After 'Rocketman,' From Elvis Presley to Aretha Franklin (Photos)
Getty Images
1 of 20
Carole King, Boy George, Celine Dion and more are looking for their "Bohemian Rhapsody" moment
With the box office and awards season success of "Bohemian Rhapsody," music biopics are roaring back. "Rocketman," based on the life of Elton John, just released this past weekend, and several others are currently in the works, including films about Elvis Presley, Aretha Franklin, Bob Marley, John Lennon and Yoko Ono.