| | | |
| --- | --- | --- |
| | | |
Kenny Wheeler, contemporary jazz musician, dies aged 84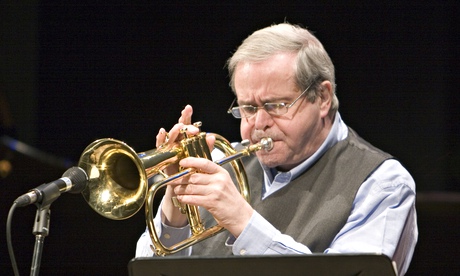 Kenny Wheeler, one of the giants of British jazz, has died aged 84.
Born in Canada in 1930, the trumpeter and composer joined the London jazz scene after moving to Britain in 1952. He played in groups alongside the likes of Ronnie Scott, John Dankworth and Tubby Hayes as well becoming part of the free-improvisation movement.
He gained critical attention in the 1970s with a series of recordings for small ensembles on albums including Gnu High and Deer Wan.
However, for many fans, Wheeler's artistic peak was in the 1990s with seminal albums including Music for Large and Small Ensemble and Kayak. In 1997 he again won critical acclaim for Angel Song, a quartet album featuring Bill Frisell, Dave Holland and Lee Konitz.
In later life, he was the founding patron of the Junior Jazz programme at the Royal Academy of Music and was the subject of a year-long exhibition by the Academy Museum. He celebrated his 80th birthday with a concert in 2010.
Announcing Wheeler's death on Thursday, Nick Smart, head of jazz at the Royal Academy of Music said: "It is hard to express just how large a contribution he made to the music in this country and around the world, and how deeply he touched the musicians that had the honour of working alongside him.
"With Kenny's passing we say goodbye to one of the great musical innovators of contemporary jazz. His harmonic palette and singularly recognisable sound will live on in the memory of all who heard him and in the extraordinary legacy of recordings and compositions he leaves behind, inspiring generations to come."
He added: "Famously self-deprecating, Kenny was always modest and humble about his own musical achievements. But the truth is, he was a genius walking amongst us, and it was the most tremendous privilege to have been able to consider him a dear colleague and friend."
Jazzwise magazine tweeted: "RIP Kenny Wheeler who made an immeasurable contribution to jazz."