https://bestclassicbands.com/laurel-canyon-documentary-series-epix-5-01-20/

'Laurel Canyon' Riveting Documentary TV Series: Preview, Photos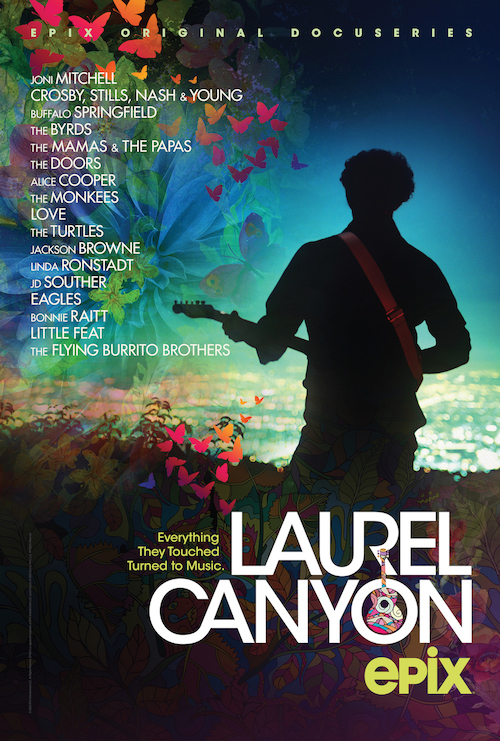 A two-part documentary series, Laurel Canyon, will premiere this spring on premium television network EPIX. As the riveting film unfolds, it explores the lives and evolution of the musicians – the Byrds, Buffalo Springfield, the Mamas and the Papas, Joni Mitchell, and many more – who inhabited that unique part of that early Los Angeles music scene. Through rare and newly unearthed footage and audio recordings, the documentary features an intimate portrait of the artists who created a music revolution of the '60s and '70s that would change popular culture.
The series also features Carole King, Crosby, Stills, Nash and Young, the Doors, the Monkees, Eagles, and many more.
Alison Ellwood (History of the Eagles) directed it. Part one will premiere May 31 at 10 p.m. on EPIX. Part two airs one week later, on June 7.
Two of the film's frequent interview subjects are a pair of well known photographers, Henry Diltz and Nurit Wilde, both of whom became close with many of the era's stars and documented it with countless images, scores of which are used in the film to great effect. They share, in significant and often humorous detail, their first-hand accounts of the artists they befriended and the events they documented.
Early in the film, Diltz says, "I made a list of everyone I could think of that I photographed in Laurel Canyon," as his shots of such figures as Mama Cass, Micky Dolenz, Jackson Browne, David Crosby, and more, are shown. "Lot of people."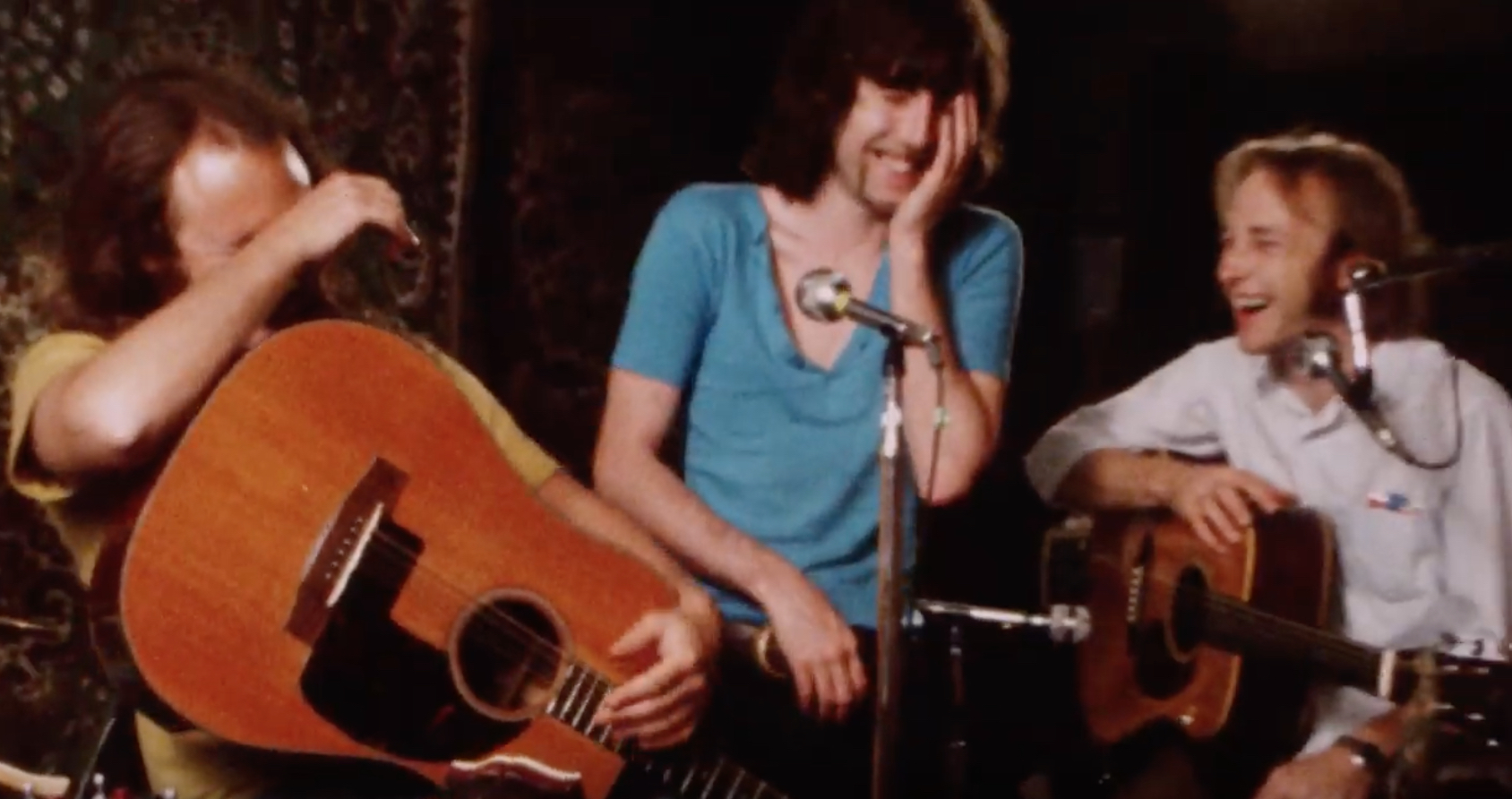 Crosby, Nash and Stills, from EPIX's Laurel Canyon
In addition, the producers crowd-sourced fans' personal film footage, photos and other materials that featured artists in conjunction with the Canyon, the Sunset Strip and other area locales.
Among the artists who are featured in all-new, original interviews are Jackson Browne, Don Henley, Linda Ronstadt, Michelle Phillips, Graham Nash, Roger McGuinn and many more.
It all unfolds beautifully, taking the viewer back to that fertile music scene.
"We were at the very center of this bubble of creativity and friendship," says Nash.
"[My home] turned out to be a gathering place," says Dolenz. "We began to throw these soirees along with a ping-pong tournament. Up the street were the Turtles. Zappa was a little further down. It was a very small community of musicians and long-haired weirdos."
The enclave and its unique geography were also part of what made it special. "It was so magical," says Chris Hillman, who moved there in '65. "Literally within four or five minutes you could be down on the Sunset Strip into Hollywood."
"Once you got above 20 or 30 of us living there," says his Byrds bandmate, David Crosby, "it was kind of a community. We would go around and visit one another quite a bit."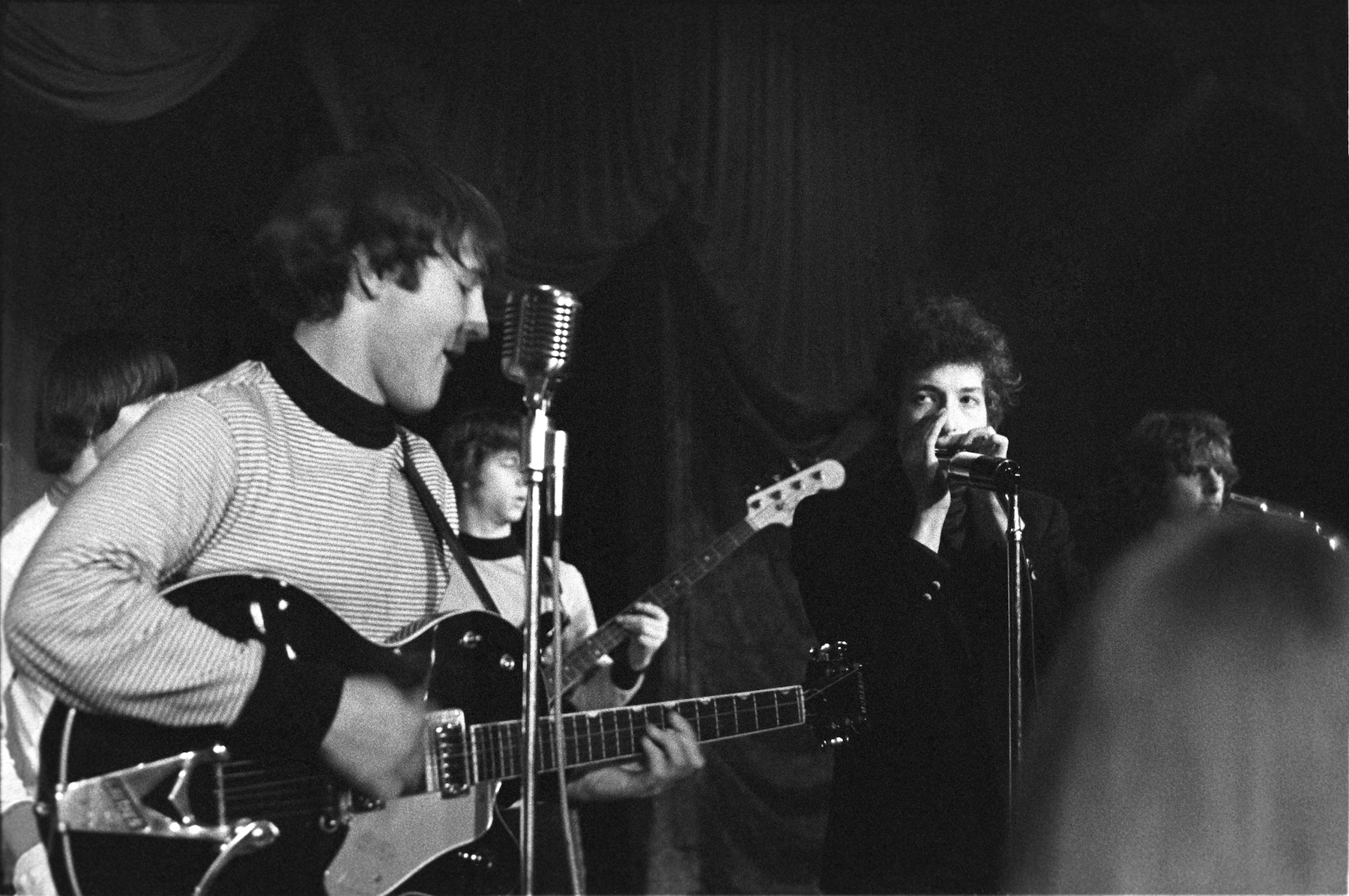 Bob Dylan, on stage with the Byrds, at Ciro's in West Hollywood, March 26, 1965 (Photo © Henry Diltz; used with permission)
When the Byrds drastically reinterpreted Bob Dylan's acoustic "Mr. Tambourine Man" with a much richer version, filled with harmonies and jangly guitar, in 1965, the public embraced the song, sending it to #1 on the Hot 100.
"He loved what we did," says Hillman.
The group members were regulars at Ciro's, a nightclub in West Hollywood. The Byrds' Roger McGuinn recalls, "I remember Bob came and said, 'Wow, you can dance to it!' He got on stage with us."
"The next day," says Crosby, "everyone in town was talking about us. All of a sudden people were lining up. It was every kid's dream."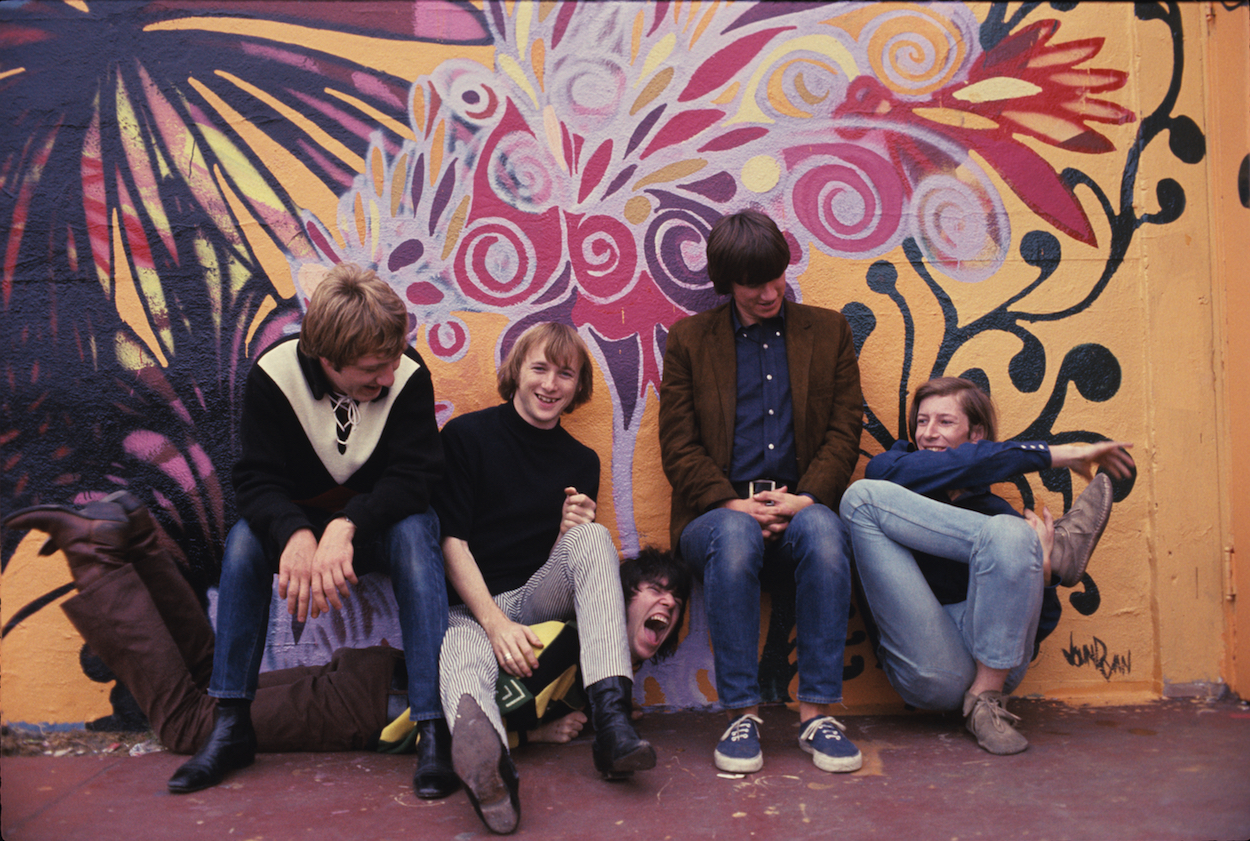 Buffalo Springfield (Photo © Henry Diltz; used with permission)
"When I heard that electric version of this song, it inspired me to go to California to start a band," says Richie Furay.
Soon, he would form Buffalo Springfield with Stephen Stills, Neil Young, Bruce Palmer and Dewey Martin.
"We were creative people," says Furay. "We were young. We were ambitious. The spectrum we covered was incredible."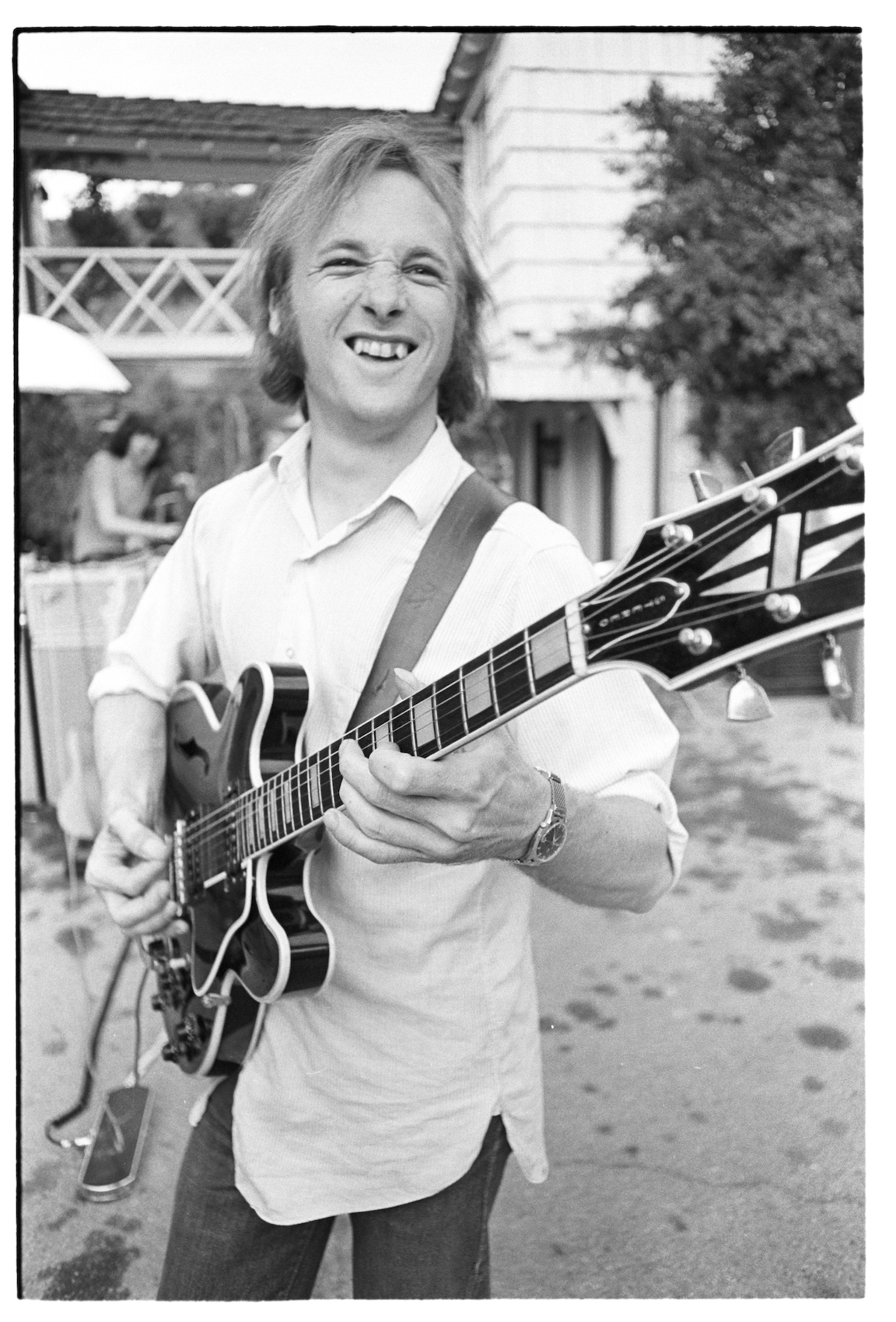 Stephen Stills at Peter Tork's house (Photo © Henry Diltz; used with permission)
Naturally, much of the community's musical output is featured by plenty of marvelous footage and through the neighborhood's legendary soundtrack: The Turtles' "Happy Together," the Mamas and the Papas' "Creeque Alley," the Doors' "Break on Through," Buffalo Springfield's "For What It's Worth."
Interviews with Furay, the Monkees' Dolenz and Mike Nesmith, and Stills himself explain the genesis of "For What It's Worth," which stemmed from the clashes between teenagers on the Sunset Strip and police, caused by neighborhood curfews that took place in November 1966. "I get home, pick up an acoustic guitar, and all of a sudden it turns into a song," says Stills.
Buffalo Springfield recorded it and it was quickly released as a single, becoming not only the band's biggest hit but also one ultimately associated with the Vietnam War.
When they performed it at 1967's Monterey Pop festival, they were joined on stage by David Crosby (but minus Neil Young).
Watch them get introduced by Stills' close friend, Peter Tork
"It didn't bother me that much at the time," says Croz's bandmate, Chris Hillman. Several months later, though, Crosby and the Byrds parted ways.
Later that year, Crosby was selected to produce the debut album from a new singer-songwriter, known to everyone by her middle name, Joan.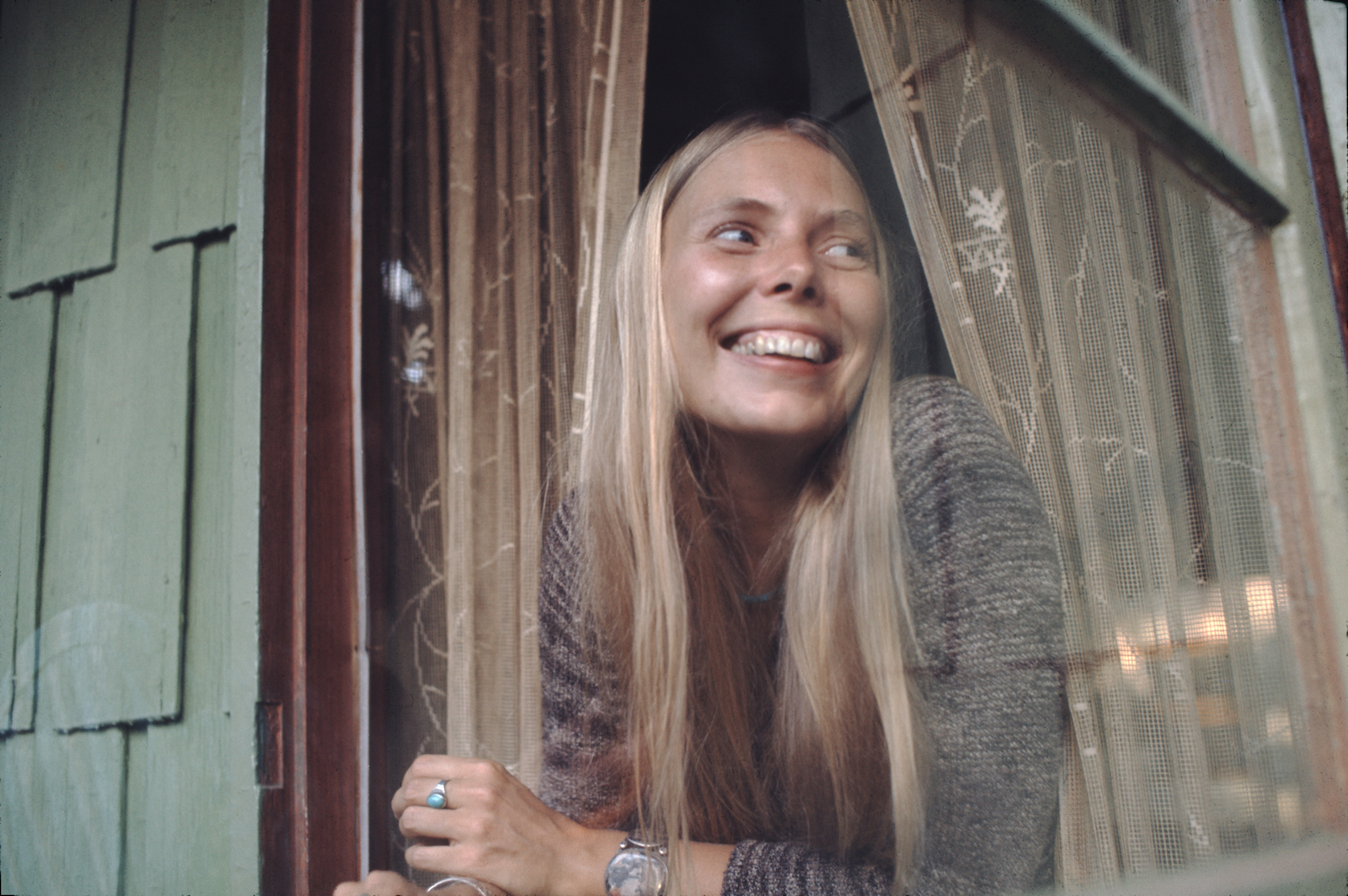 Joni Mitchell at her home in Laurel Canyon (Photo © Henry Diltz; used with permission)
Within two years, the performer, now known professionally as Joni Mitchell, was a significant star, and had settled in nicely into a bungalow in Laurel Canyon.
Diltz was hired by Warner Bros. Records to photograph her for 1970 album, Ladies of the Canyon. As he approached the house with his partner, Gary Burden, "[Joni] was leaning in the window waiting for us. Luckily Gary got into a conversation with her which allowed me… to just keep clicking away while she was talking." The album included "The Circle Game," "Big Yellow Taxi," "Woodstock" and the title track.
Listen to the title track from Mitchell's Ladies of the Canyon
Best Classic Bands will have more on the upcoming series, prior to its May 31 premiere on Epix.
Watch the official trailer for Laurel Canyon
The series, originally announced for 2019, is not associated with that year's documentary Echo in the Canyon, which explored the same, fertile '60s music scene. Laurel Canyon was worth the wait.
"Having personally lived through this musical period of time, I'm incredibly excited to be involved in telling this story, especially given the amazing team we've assembled to make what we intend to be the definitive documentary on the Laurel Canyon scene," said executive producer Frank Marshall.
Watch the Mamas and the Papas sing "12:30 (Young Girls Are Coming to the Canyon)"
If you're a new Best Classic Bands reader, we'd be grateful if you would Like our Facebook page and/or bookmark our Home page.
Said Craig Kallman, Chairman and CEO, Atlantic Records, "In Laurel Canyon, all the stars aligned to kindle a creative community unlike any other in modern musical history. Brought together during a cultural sea change, these artists inspired themselves and each other to make transcendent music that remains as vibrant and relevant today as it was a half century ago. The Warner Music family of labels—Atlantic, Elektra and Warner Bros.—were fortunate to have been part of this extraordinary moment, recording many of the artists at the center of the Laurel Canyon scene. We're thrilled to be partners in this long-overdue documentary about an incredible time and place."