| | | |
| --- | --- | --- |
| | | |
Live From New York: The State of Jazz in 2015
Saul Williams performing with David Murray (Jett Drolette)
Zach Hindin and David Graham discuss the 2015 Winter Jazzfest in New York and what it says about the state of America's classical music.
---
Hindin: The rightful home of the country's premier jazz festival is New York City—more than tony Newport or even New Orleans, whose "Jazz & Heritage Festival" is nursing an identity crisis (this year's headliner: Elton John)—and Winter Jazzfest is it.
It's hard to plug a jazz festival without blushing a little. In his manifesto, "On Why Jazz Isn't Cool Anymore," Nicholas Payton declared, "People are holding on to an idea that died long ago." On the contrary, more than 100 performances last weekend, including Payton's—the emcee who introduced him as the multi-instrumentalist, the polemic … groped for a third descriptor until one astute crowd member assisted with bad motherfucker—spotlighted a deep bench of forward-thinking musicians unfettered by "jazz," or really any genre at all. Call the music what you please, but every act I saw was by the end not an act so much as a white-knuckled, life-and-death reveal: This is who I am.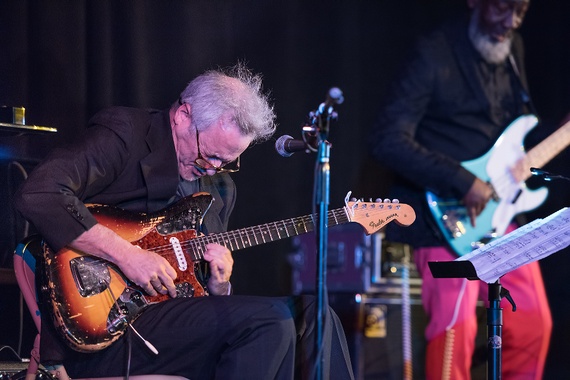 Graham: It used to be pretty easy to demarcate distinct phases in the music: swing and then bop, modal and then free jazz, fusion and the Young Lions. Maybe from the safe distance of 25 years, we'll be able to distill the sound of the music in 2015, but what I heard was, as you say, a genre-busting buffet. The three best shows of the weekend I saw included a three-guitar gospel band playing A Love Supreme, a set of raucous free jazz from aging titans, and a leading light of 1980s jazz performing, well, I'm not quite sure how to describe it. Yet it all felt very clearly part of the same musical family.
Hindin: The crown jewel of the festival's 10 venues was Judson Memorial Church, a paint-chippy place with long thin bricks and old wood worn smooth. You could hear the silence padding every note. There, I saw trumpeter Dave Douglas, playing with his quintet and polished flutters, and Ken Vandermark & Nate Wooley, whose difficult music repays those willing to surrender. And yes, those Campbell Brothers! The risk of covering Coltrane in church is an empty prayer, something lifeless and obliged. But this felt indebted, like an honest-to-John devotional. There under the rose window, the cymbals crashed and the steel strings whined, and the whole congregation was chanting: "A love supreme, a love supreme, a love supreme." Amen. (Video of a previous performance of the work is below.)
Graham: Speaking of emotionally charged moments, this was one of the most political moments I can remember in this music. You mentioned Nicholas Payton, who's been out educating and provoking on the "Black American Music" front for years now, but it seems like racial politics are on the minds of many, many musicians right now. That makes sense, given what's in the news in New York, Cleveland, and Ferguson, but jazz musicians can sometimes seem a little checked out of the day-to-day grind. Not at this festival: I saw two separate bands, Jose James and the Campbell Brothers, perform Sam Cooke's "A Change Is Gonna Come," James with a #blacklivesmatter-themed video. James also performed a haunting "Strange Fruit"—no small feat given how desensitized listeners are at this point. I saw a band called the Marquis Hill Blacktet. I saw a band called Harriet Tubman. Jazz has also tended to marginalize women, welcoming them as singers but keeping out female bandleaders and instrumentalists. I saw a ton of female players and leaders, notably, bassist Linda Oh, pianist Geri Allen and drummer Terri Lyne Carrington, trumpeter Ingrid Jensen—and harpist Brandee Younger.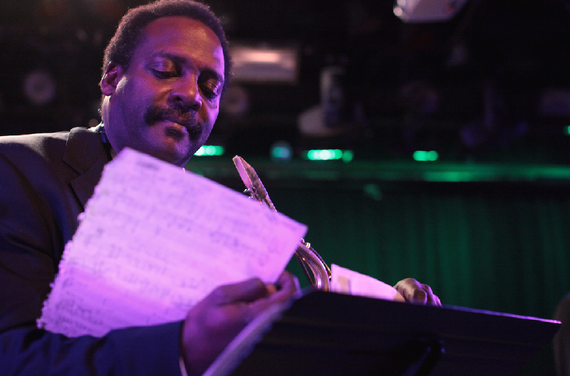 Hindin: The fans were predominantly white and male, at least where I was sitting, and younger than I'd expected. Most were in their 20s and 30s. A blessed few had their hands stamped because they were too young to drink. No dancing or heckling, save to correct that poor emcee ("It's Marc Ribot. Ree. Bo."). They don't shush like symphonistas, but they do shoot one another these withering looks that get right down to the problem of fandom: How do you relish with grace? How do you rave over complexity, beauty, the bona fide Ding an sich, without sounding like kind of an asshole? Where's the line between passion and fetish? Subculture and hipsterism?
Graham: My experience was a little different. Some of the crowds I was in were rapt, others … not so much. But the most fun audience was also the most boisterous—and the least white and male. That was the "Blue Note Now!" concert, a showcase of young talent on a label that's been a magnet for gospel-inflected jazz for decades. It's a circle that revolves around pianist Robert Glasper, largely hails from Houston, and puts a lot of hip-hop in its music. The energy in the house was great; the music was more mixed. Drummer Kendrick Scott's Oracle was fairly straight-ahead but not moldy. Bassist Derrick Hodge played a set that had great grooves but never really went anywhere. And then Jose James came on and just tore down the place with "God Bless the Child." I kind of appreciate the unevenness—not all of this stuff works, but it's good to see experiments with contemporary sounds, and it's great to see people coming out for it.
Hindin: Doubly great because supposed obsolescence weakened the scene, ironically, at the same time it primed the strongest generation of players. That's been the story for years now. Here's how the next chapter starts: Winter Jazzfest showcases artists ignored by the Culture Industry, for fans considered a dead market, and they just outgrew their capacity.
Other festivals aim to melt one into the many. Psychedelic revivals, Carnival, Comic Con—what lures us there is Us. WJF was more like a gun show, where the state of an art is demonstrated and the draw is reveling openly in a power and pleasure that's otherwise, especially for those of us not living in the city, felt in private. The ballad rings true: "Alone Together."