| | | |
| --- | --- | --- |
| | | |
Passings: DeFranco, Bedford, Belletto
The past seven days have seen the deaths of three musicians who came to prominence as young men and had long careers in the swing, bebop and post-bop eras.
Buddy DeFranco, who in the 1940s was the first to successfully adapt the clarinet to the complexities of bebop, died the day before Christmas at age 91. In recent years he and his wife Joyce lived in Panama City, Florida. DeFranco was the principal influence onvirtually every major clarinetist who played the instrument in modern jazz. Born in Camden, New Jersey, he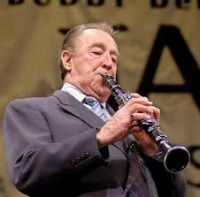 attended music school in Philadelphia, was a professional at 16 and before he was 20 had worked with the big bands of Gene Krupa, Ted Fio Rito and Charlie Barnet, then with Tommy Dorsey and Boyd Raeburn. His quartet with pianist Sonny Clark, bassist Eugene Wright and drummer Bobby White was an acclaimed group in the mid-1950s. He worked steadily until illness slowed him in his eighties. For more about DeFranco, see the obituary by Don Heckman in The Los Angeles Times.
Drummer Ronnie Bedford died Saturday December 20 in Powell, Wyoming, where he had lived since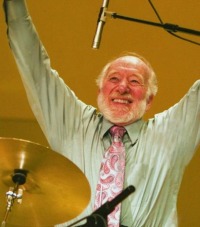 1986. He and his wife were attracted to the relaxed pace of life in the west after years in New York City. Before and after the move, he worked and recorded with a range of jazz artists including Benny Carter, Red Norvo, Teddy Wilson, Toshiko Akiyoshi , Benny Goodman, Rod Levitt, Buddy DeFranco and Harry Edison. Bedford was 83. For an obituary, go here.
DeFranco and Bedford, colleagues in their New York days, had a reunion at a 1990 Wyoming jazz festival that Bedford organized. Reed Gratz is the pianist, Peter Huffaker the bassist.
Al Belletto was so attached to New Orleans that he returned to his hometown in midcareer and spent almost all of the rest of his life there. The saxophonist and bandleader died Friday night at home in the Crescent City suburb of Metairie after a long struggle with Huntington's disease. He would have been 87 on January 3. No public obituary has yet appeared, but his family prepared one and has permitted us to share it with Rifftidesreaders. We have added photographs, and a bit of music by the Belletto big band.
Al was born in his beloved New Orleans on January 3, 1928. He died at home on December 26, 2014, following a prolonged encounter with Huntington's disease. His long career in jazz madehim one of the city's best known and most treasured musicians.

The young clarinetist switched to alto saxophone at Warren Easton high school and began working as a professional musician while a teenager. His early experience came with a variety traditional New Orleans bands including those of Sharkey Bonano, Wingy Manone, Leon Prima and the Dukes of Dixieland. Following his graduation from Loyola University as a music major, Al earned a master's degree in music at Louisiana State University and was an expert clarinetist and player of alto and baritone saxes.

Although he loved the traditional jazz that he played in the late 1940s and early 1950s, the bebop> pioneered by Charlie Parker and Dizzy Gillespie captured Al's attention. Many older New Orleans players and fans were cold to modern jazz, but Al got encouragement from a few, among them Monk Hazel, the drummer of the legendary New Orleans Rhythm Kings. He often recalled with a big smile, that Hazel told him, "Just play your horn, baby." In 1952 he founded the Al Belletto Sextet. Encouraged—sponsored, really—by big band leader Stan Kenton, he recorded for the Capitol, Bethlehem and King labels.

The records showcased his sextet's ability to sing as well as they played and brought Al national attention. No small part of the recognition came because the Belletto sextet's recording of "Relaxin'" was the theme of Dick Martin's "Moonglow With Martin" program on WWL Radio. The station's powerful signal sent the program across half the United States. Martin kept his listeners informed about where the band was playing. Here's a 1997 remake of "Relaxin'" by the Belletto big band from the Jazznocracy CD. Al has the alto sax solo.

In several cities, fans filled clubs when the sextet appeared. The group became a part of Woody Herman's big band for State Department tours of South America in 1958 and 1959. Despite those successes, Al couldn't get New Orleans out of his system.

He came home in the sixties determined to spend as much time as possible in his native city. Orleanians' tastes had changed to encompass modern sounds, and through the years as he worked with his quartet, sextet and big band, Al became a major figure in the city's cultural community. As music director of the Playboy Clubs, he still traveled, but the New Orleans club became his base and he brought major jazz artists and entertainers to appear there.

In the late sixties, Al was a member of the board of directors of the original New Orleans jazz festival known as JazzFest. He successfully pressed for a policy guaranteeing not only that many of the city's prominent black musicians would be presented at the festival but also that they would be paid on a scale commensurate with that of white musicians. In the midst of the civil rights era, it was one of his proudest achievements.

Flooded out in 2005 by Hurricane Katrina, Al and Linda moved for a time to Dallas to be near Al's son Bradley and his family. They returned to their new home in Metairie a few years ago.

Among the members of Al's bands over the years were such prominent musicians as Johnny Vidacovich, Ellis Marsalis, Carl Fontana, Willie Thomas, Michael Pellera, Don Menza, Richard Payne, John Mahoney and Rick Trolsen. Players who worked for Al had a title for him that reflected their admiration for his musicianship, his leadership and the warmth of their feelings for him. They called him Coach. Along with Linda, Bradley and Al's countless friends around the world, former sidemen are among the survivors remembering him with love. Plans for a memorial service are to be announced.
We thank Linda Belletto for allowing us to publish her husband's obituary, and we send deep condolences.
YouTube's Al Belletto pages have dozens of tracks from his albums.