https://www.wbgo.org/post/ray-mantilla-percussionist-who-blazed-trail-both-jazz-and-latin-music-dead-85?fbclid=IwAR0j8dyphTL9Zb6d3cWbDiJcRiUCIWBWs3xuxYOyDvEUctOqGT8qoW32Cok#stream/0

Ray Mantilla, Percussionist Who Blazed a Trail in Both Jazz and Latin Music, Is Dead at 85
By Bobby Sanabria • 11 hours ago
Ray Mantilla, a percussionist and bandleader who led a prolific jazz career for more than half a century, died on Saturday, at New York-Presbyterian/Columbia University Medical Center. He was 85.
The cause was complications of lymphoma, said his brother, Kermit Mantilla, who was at his bedside when he passed.
Mantilla played on hundreds of recordings, including some that have become important parts of jazz history, like Max Roach's M'Boom, Herbie Mann's Flute, Brass, Vibes and Percussion and Charles Mingus's Cumbia & Jazz Fusion. He was one of the three most recorded conga players in the history of jazz; he held that distinction with Ray Barretto and Cándido Camero.
Like Cándido, one of his heroes, Mantilla championed the use of multiple congas, employing up to four drums at times, each tuned to a specific pitch. Also like Cándido, he championed the performance of solo pieces on congas.
But Mantilla was, as he liked to put it, the complete percussionist — skilled not only on congas but also a range of other instruments. "I loved the way Ray played charanga-style timbales," Barretto once said. "Remember, you have only one bell to keep time accompanying the flute and violins, and you have to play rock-solid time with swing."
Mantilla described his own music as "Latin Jazz with authentic Latino rhythms." He released nine albums as a leader. His first was Mantilla, in 1978, and his most recent was High Voltage, almost 40 years later. He recorded a follow-up, Rebirth, scheduled for release this year on Savant Records.
"It's a combination of the familiar and the eclectic," said longtime Mantilla associate Mike Freeman, who plays vibraphone on that album. The title, Rebirth, he explained, "is a reference to Ray surviving cancer two years ago."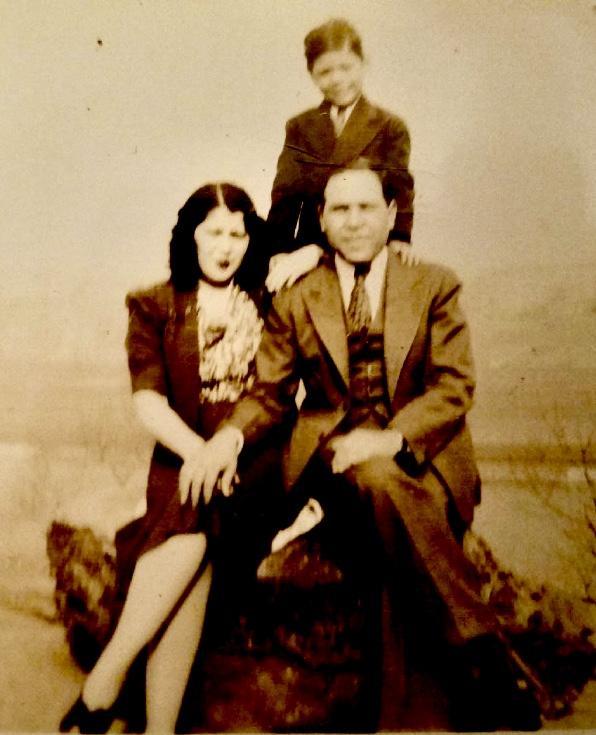 Raymond Mantilla was born in St. Francis Hospital in the South Bronx on June 22, 1934. His father, Carlos Mantilla Ghilardi, was an architect and engineer who was recruited to work on the building of the George Washington Bridge. He then began working for the U.S. Intelligence Services in a branch in Peru, just before the United States' entry into World War II. Ray's mother, Ramona Maldonado, hailed from the city of Vega Baja in Puerto Rico, and owned and operated a bodega in the South Bronx.
Ray's childhood friends included some of the major forces in the Afro-Cuban music scene that became redefined by New York's City's Puerto Rican community into what we know as salsa. Among them were timbalero Orlando Marin, percussionist Manny Oquendo, pianist Eddie Palmieri, flutist and percussionist Johnny Pacheco, and percussionist Benny Bonilla.
Bonilla, who played timbales on the seminal Latin Boogaloo hit "I Like It Like That," met Mantilla at age 15. "He and I would practice our conga beats to 78 vinyl records," he said. "Ray stressed a steady and good left hand."
But Mantilla's closest childhood friend was Barretto, a pioneering conga player who became an NEA Jazz Master in 2006, one month before his death at 76. "Me and Ray were like peas in a pod," Mantilla once recalled. "He got me into the studios, since he would send me to cover dates he couldn't do. Between Ray, Johnny Pacheco, Willie Rodriguez, Cándido, and me, we were doing all the Latin percussion work on studio sessions in New York."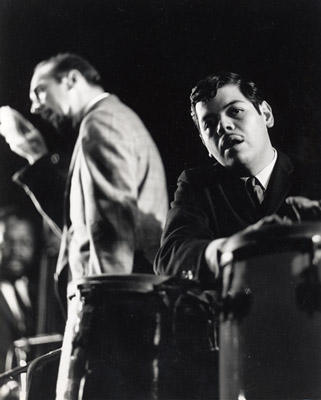 Barretto also made a fateful introduction when he recommended Mantilla to Mann, a flutist leading a widely popular Latin jazz band. Barretto and Mantilla played together on a handful of albums by Mann at the dawn of the '60s, including The Common Ground and The Family of Mann — but by the time of Herbie Mann at The Village Gate in '61, Barretto had moved on, and given Mantilla his blessing.
His work with Mann, and his association with Barretto, brought Mantilla to the attention of prominent jazz bandleaders like Mingus, Roach, Art Blakey and many more. "I always liked the freedom in jazz and I dug the scene as well," he said. "You could be more creative, looser. After a while I just stopped doing gigs on the Latin scene altogether unless I was called as a guest soloist."
In 1972, Mantilla was asked to join Roach's percussion ensemble M'Boom, which had been formed two years earlier. "I was impressed by Ray when I saw him with Art Blakey because I liked the way he navigated his role in the group," recalls founding member Joe Chambers, who recommended him for the gig. "He demonstrated the drummer's philosophy as it was taught to me, to accompany. He never overplayed."
Warren Smith, another member of M'Boom, recalls: "Ray understood the subtle nuances in African, Latin, and jazz-based music and he adapted beautifully. The first time he played with us it was seamless. What also impressed me was the variety of solo contexts he could do. He could play solo on bongos, congas, whatever, and hold the audience. He was also funny as an emcee. When we performed in Barcelona, Max let him speak to the audience in Spanish. He had them in the palm of his hand introducing each one of us with funny quips and jokes."
For Mantilla, M'Boom was an opportunity to expand his musicianship. "I had to learn to play mallet parts on vibes, xylophone, etc. I had never done that before. It was great. They showed me that and I had a chance to show the guys how to play hand drums and the percussion in an authentic way."
In 1977, Mantilla also made political history, as part of a group of musicians led by Dizzy Gillespie who became the first to perform in Cuba since the travel embargo of 1962. Their joint concerts with Cuba's supergroup Irakere and the rúmba percussion ensemble Los Papines would reestablish musical ties with the island.
It was the following year, 1978, that Mantilla really became a bandleader. His group, which he eventually dubbed the Space Station, explored Afro-Cuban-based rhythms but also experimented with expanding the parameters of the music, notably with odd meters. "I was into that when nobody else was, other than people like Don Ellis," Mantilla said. "That's why on that album you hear things in seven, etc. Nobody in Latin jazz was doing that at all. That's why I would call the group Space Station. We were doing things that were out of the norm."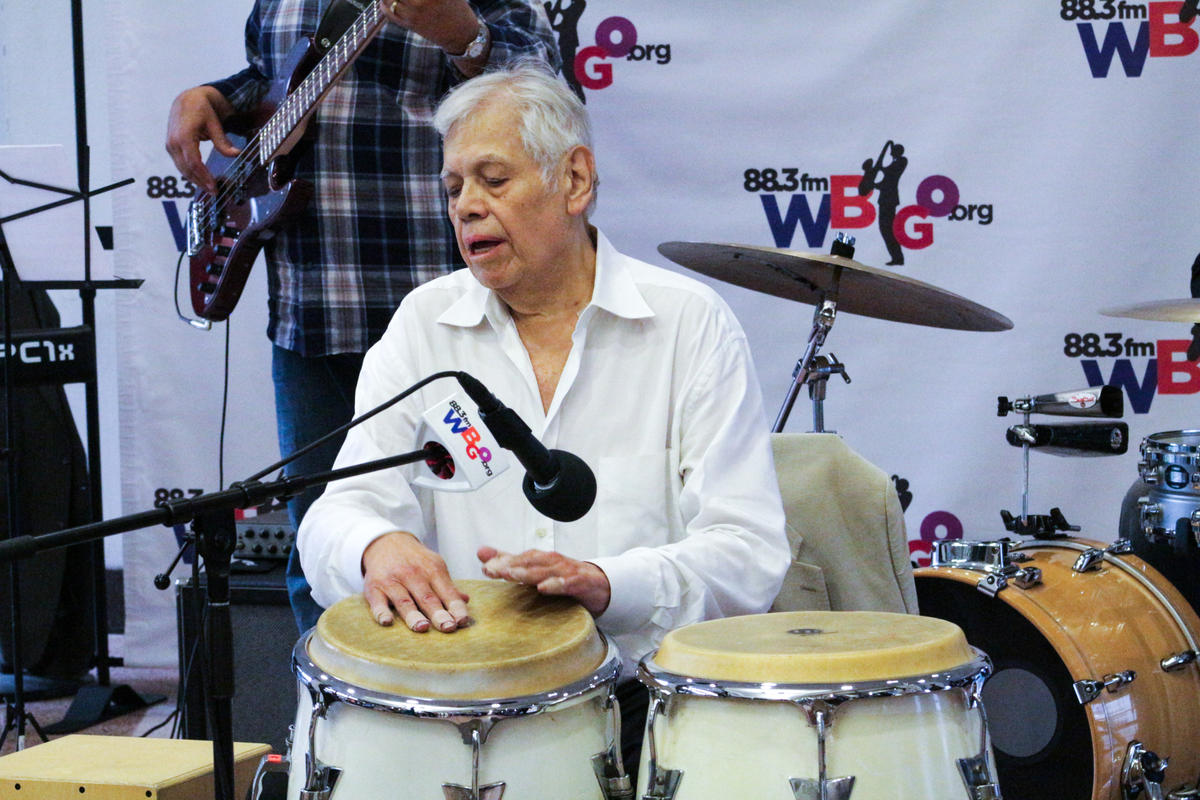 Trumpter Guido Gonzalez spoke to Mantilla's style as a bandleader: "In many ways Ray was like Art Blakey. He'd let everyone in the band give their input. He was also funny. The way I got in the band was after I played in a rehearsal, he came up to me and said, 'Man, your sound doesn't bother me.'"
Mantilla is survived by his brothers, Kermit and Lisandro Gilberto, and his sisters, Irma Ogden and Sara Kelly, along with extended family. "What I want people to know is that Raymond helped to spread Latin jazz throughout the whole world," said Kermit. "That is his greatest contribution. Our family is proud of him, as is the entire Peruvian and Puerto Rican community worldwide."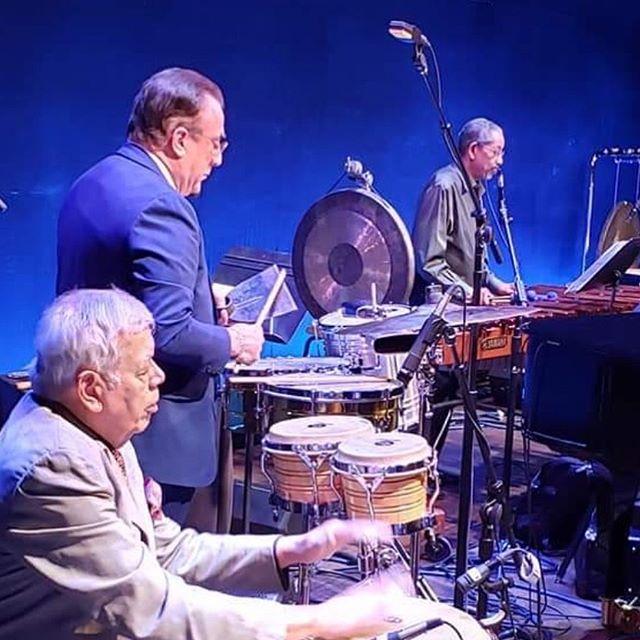 Over the last few years, as the latest member of M'Boom, I got to know Ray really well on a personal level. The funny anecdotes, deep storytelling, and of course his priceless musicianship (not to mention the bind we had as Bronxites) were all things that I always looked forward to — along with performing, and seeing brothers Warren Smith and Joe Chambers.
But it is the friendship I will always cherish more than anything. Ray was on the Music Board of the Bronx Music Heritage Center, where my wife Elena Martinez and I are Co-Artistic Directors. We always looked forward to our meetings, as Ray and fellow Bronxite Jimmy Owens would hold court with the memories of our beloved borough.
Another S.O.B. (Son of da' Bronx) has left us embraced by the spirits of ancestors that have contributed mightily and majestically to the history of the music. Rest in power and Aché, Brother Ray.
Special thanks to Chucho Martinez and Kermit Mantilla for providing biographical information.