https://www.wbgo.org/post/remembering-gene-jefferson-saxophonist-clarinetist-and-flutist-revered-latin-jazz#stream/0
Remembering Gene Jefferson, A Saxophonist, Clarinetist and Flutist Revered in Latin Jazz
By Bobby Sanabria • Oct 18, 2019
Saxophonist, clarinetist and flutist Gene Jefferson — one of the finest human beings and greatest musicians I have ever known — died on Wednesday at Kings County Hospital in Brooklyn, N.Y, of complications from vascular dementia. He was 88.
"Lord" Walter "Gene" Jefferson hailed originally from Panama, and came to New York in the early 1960s along with his fellow saxophonist and flutist Mauricio Smith. Gene, as he became known by everyone, quickly found work due to his versatility in jazz, Afro-Cuban and other Latin American styles of music.
He could play authentic charanga Cuban flute, the blues and bop on saxophone with the best of them, and Dominican merengue like nobody's business. He resided in Brooklyn, which had become home to many Panamanian musicians, including pianist, organist and Broadway conductor Frank Anderson; the aforementioned Mauricio Smith (who became the first saxophonist on Saturday Night Live); pianist Manuel Cobham (father of renowned drummer Billy Cobham); bassists Russell and Alex Blake; pianist Luis Russell (musical director of Louis Armstrong's Big Band, and father to Catherine); and pianist Terry Pierce.
Gene played and toured on tenor sax with legendary vocalist Tito Rodriguez's orchestra, and is heard on Carnaval De Las Americas, an album cherished by collectors the world over.
Besides Tito Rodriguez, he was a veteran of the Ray Charles Orchestra, the Marcelino Guerra Orchestra, Collective Black Artists, Orlando Marin's Saxofonica and Benjamin Lapidus' Kari B3. He played with Charlie Palmieri, Louis Ramirez, and the father of mambo and son montuno, Arsenio Rodríguez.
Gene was also a member of the house band at the Apollo Theater in the 1960s and '70s, backing every major black performer of the day. In 1982 he was in the horn section featured on The Mighty Arrow's original recording of "Hot, Hot, Hot" — a soca/calypso tune that became a worldwide megahit.
And for 39 years, Gene was a member of my band Bobby Sanabria's Ascensión; he was featured on the group's 1993 album ¡New York City Aché!He also appeared on my first Grammy-nominated big band album, Live & In Clave!!!, released in 2000.
Gene was a humble warrior whom many had forgotten, as often happens in the cruel world we call the music business. I learned so much from this man and cherished every moment I was able to perform with him — in particular with his own group, The International Combo, which featured his lovely wife, Enid Lowe, the Sarah Vaughan of Panama. His quiet demeanor, dignity, and devotion to his family reminded me every time of my own father, José.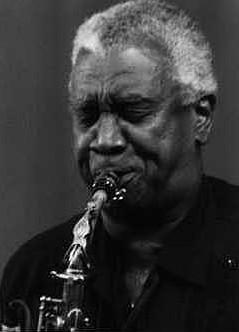 Gene was among the last of a breed of musicians who knew every tune in every key. But I'm not just talking about the canon of "standards" we utilize in the jazz world. I'm talking about the incredible canon of music from all of Latin America — a body of songs even larger than that of the so-called American songbook. Every gig with him was a learning experience, as I was exposed to that canon in all its beauty, and in a visceral way.
These musicians lay waste to our generation. As my father made me aware of the importance of history, Gene made me aware of the importance of musical history and its connection to the music and dance of our mega-culture that is Latin America. It is our secret weapon as artists. It's what we can draw upon in any musical situation for inspiration when we have those moments of perspiration, saying to ourselves, "What do I play now?"
In our current world, where history is often undervalued by a generation of younger players, an elder like Gene (and others like him) stood as a shining example of what one can achieve as a musician — the ability to be a master storyteller in the moment, a mentor by example, and a teacher through action.
I will always remember two moments where I had out of body experiences with him. One was when he soloed on an old merengue, "Con El Alma," for over 10 minutes. The other was hearing him play over the ballad "What's New." Two completely different scenarios and audiences: one for dancers, the other for listeners. In both cases, the audiences were transformed and awestruck, as were we on the bandstand. You can't do that unless you have a supreme knowledge of history.
My and Elena's supreme condolences and love to his children, Gary and Gina, to his incredible wife Enid, and to the entire Jefferson family. And to the people of Panama: you have lost a native son who was proud of his homeland. Thank you for sharing him with us.