https://www.wbgo.org/post/rob-crocker-honored-naacp-its-roy-wilkins-black-history-month-award#stream/0

Rob Crocker Honored by the NAACP with its Roy Wilkins Black History Month Award

By Nate Chinen • 19 hours ago
​

HUBERT WILLIAMS
In all likelihood, you know the voice of Rob Crocker. A steadfast announcer at WBGO for the last two decades, he has history with our station going back nearly to its inception.

This week, Rob received the Roy Wilkins Black History Month Award from the Mid-Manhattan Branch of the NAACP. "They were really gracious," he says. "I had tremendous appreciation for the honor."

As noted in the event's program book and his WBGO bio, Rob "has the singular distinction of being the longest-running disc jockey in the history of jazz radio in New York City." That tenure includes notable time not only at WBGO but also at WRVR, WBLS and KISS FM.

He began his broadcast career on Radio Free America, in Holland, co-hosting a program called "Sad Eyed Lady of the Lowlands." He spent much of the 1990s in Japan, hosting shows in Tokyo and Yokohama, before returning stateside at the turn of the century.

One of the most gratifying things about the NAACP event, Rob says, was the presence of other African American radio stalwarts. "The fact that I was up there with G. Keith Alexander, from the old days of BLS, and Bob Lee, from BLS. These guys are my peers, even though I'm older than both of them. We all go way back to New York radio in the '70s and '80."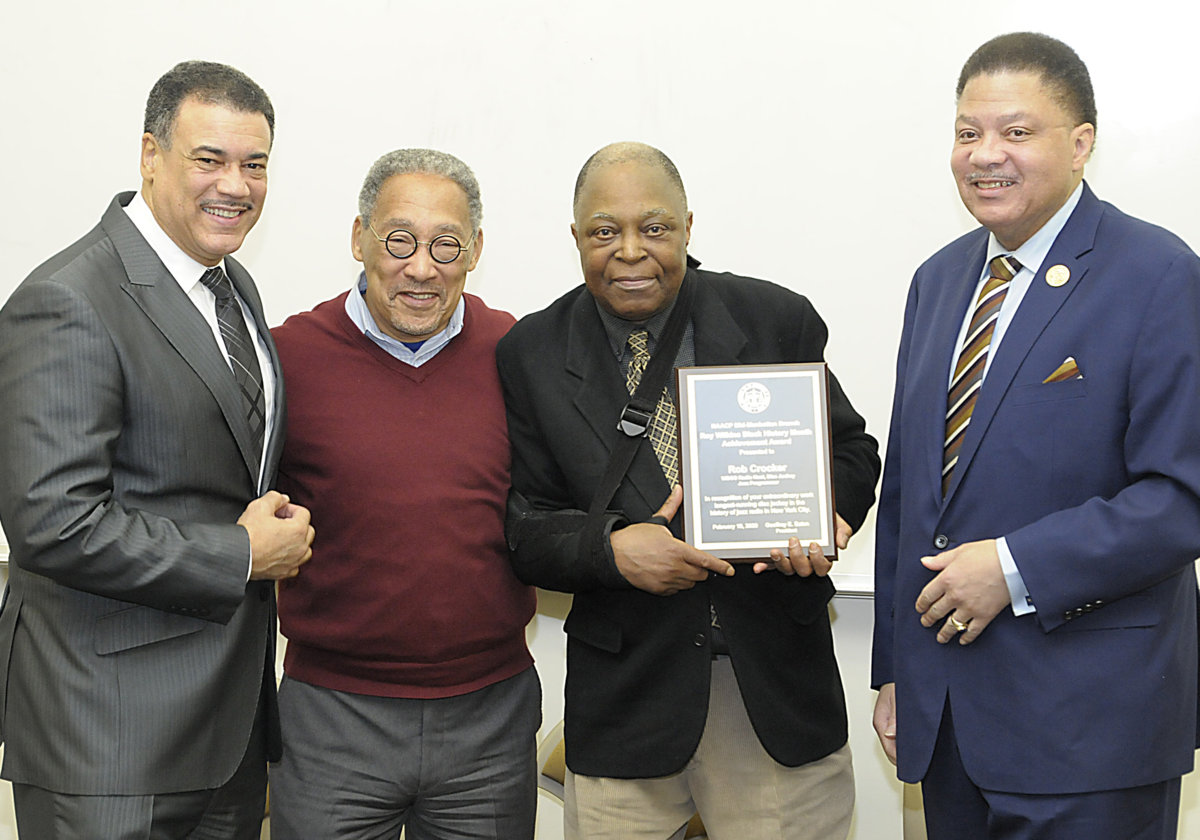 Bob Lee of WBLS, G.Keith Alexander of HarlemAmerica Talk Radio, WBGO's Rob Crocker, and Geoffrey Eaton of the NAACP.
CREDIT HUBERT WILLIAMS

"He is the jazz jock," says WBGO's Lezlie Harrison, who attended the NAACP event. "Whatever else people say, they all say Rob knows how to swing and his programming is excellent."

She adds: "He's certainly someone who's invested in the music, and the betterment of the music. So not only does he play good music; he also supports the music, in a way that we all need."

Rob says he embraces his stature as a role model, and a voice of experience. He brings that experience to the balance of material in every shift. "It's a maturity factor that teaches me how to blend things," he says. "The old crossover fusion classics, as well as the new things coming out, as well as the classics. I think it's just an understanding: some people like this, but everybody likes that."

Hear Rob Crocker on Saturday Evening Jazz and Sunday Afternoon Jazz.