http://www.bbc.com/news/uk-scotland-edinburgh-east-fife-36270946?post_id=650686557_10153972710911558#_=_
Scottish jazz musician Joe Temperley dies
The great Scottish jazz musician Joe Temperley has died at the age of 86.
One of the most respected jazz saxophonists in the world, Temperley, from Lochgelly in Fife, passed away on Wednesday.
He left Scotland for London in the 1950s and played in Humphrey Lyttelton's band before moving to North America in the 1960s.
Temperley, who started playing the sax when he was 14, took the baritone chair in the Duke Ellington Orchestra.
In recent years he had been a long-serving member of the Jazz at Lincoln Center Orchestra, under Wynton Marsalis.
He visited the Edinburgh Jazz and Blues Festival in 2009.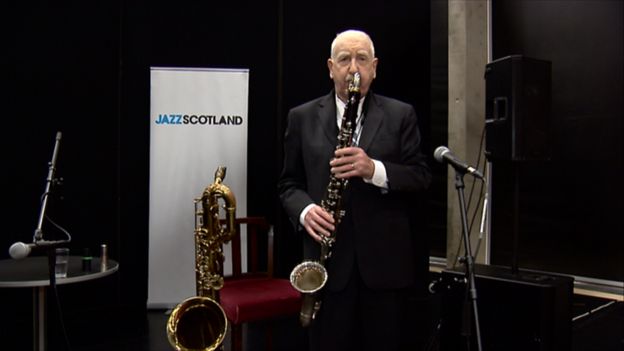 Speaking to BBC Scotland during that visit, he said: "I practise all the time.
"It is all about how you discipline yourself, it's constant practice. If you haven't practised for one day you know it, if you haven't practised for two days some people notice it and if you haven't practised for three days everybody knows it."
About working past retirement age, he said: "As long as I can do it, I will do it. As Duke Ellington said: 'Retire, to do what?'.
"I'm living my dream. It is hard work on stage but people see the good times and don't take into consideration that you get exhausted, it is the adrenaline on stage which keeps me going."
In 2009, as New Orleans recovered from the impact of Hurricane Gustav, Temperley said: "Jazz means a lot of different things. Two months ago I was in New Orleans and saw the devastation there and the will of the people and how they are overcoming it.
"Jazz is life."
Roger Spence, Edinburgh Jazz and Blues Festival producer, said: "No other Scottish Jazz musician has gained such worldwide popularity as Joe Temperley.
"He is the giant of Scottish Jazz to date. And for good reason. His wonderful sound on the baritone saxophone, and the way he married gruff New York attitude with Scottish romance, created a unique voice in the jazz world.
"And all the time he was gracing the concert halls and top jazz clubs around the world, he was keeping in touch with all the comings and goings in Lochgelly and Cowdenbeath.
"A big man with a big sense of humour."