UK vinyl boom sends prices spinning into 'premium' territory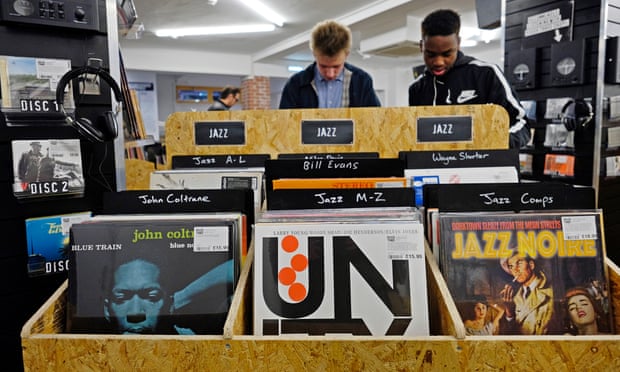 The ground floor of HMV in Oxford Street, London, is bustling with young people scanning racks of CDs and DVDs. Upstairs, where vinyl albums take up half the first floor, it's just as busy, but the customers sifting through shrink-wrapped LPs are predominantly over 35.
But the age difference may not just be because vinyl tends to attract those who remember it from the first time around. There's also the money: a vinyl album costs about £20 – or even more if it includes extras such as a poster or lyric booklet – while the same album is around £10 on CD.
Vinyl is booming – in 2014, sales passed 1m albums in the UK for the first time since 1996, with sales expected to hit 2m this year – but so is the price.
After reaching its nadir in 2007, when only 205,292 vinyl albums were sold in Britain, the format has been steadily rebounding, thanks in part to the popularity of guitar bands, traditionally associated with vinyl, and the launch eight years ago of Record Store Day.
For the music business, which has never recovered the ground it lost to illegal downloading in the early years of the century, the growth in vinyl sales of new albums and vintage stock is good news, with vinyl priced as a premium product.
HMV shoppers can buy a CD copy of Iron Maiden's recent chart-topping double album The Book of Souls for £9.99, but for the vinyl version – which contains three LPs, as it is too long to be squeezed on to two – they will need to shell out £29.99.
At the HMV-owned Fopp Records down the road in Covent Garden, known for its lower prices, the new Duran Duran album is £22 on vinyl and £10 on CD, while a vinyl edition of Pink Floyd's 1979 double album The Wall, which comes with a poster and a voucher for a free download, costs £38.
"You can't afford to take a punt on an unfamiliar band any more," says Dara, a 41-year-old HMV customer who didn't want to give his full name. He's rolling his eyes at a copy of Oasis's debut album, Definitely Maybe, re-released at £24.99, including a download code for a number of previously unreleased tracks.
"Vinyl is just too expensive. You're paying a lot for a few extra Oasis tracks. It's just going to be bought by collectors rather than people who get it home and take the shrink wrap off."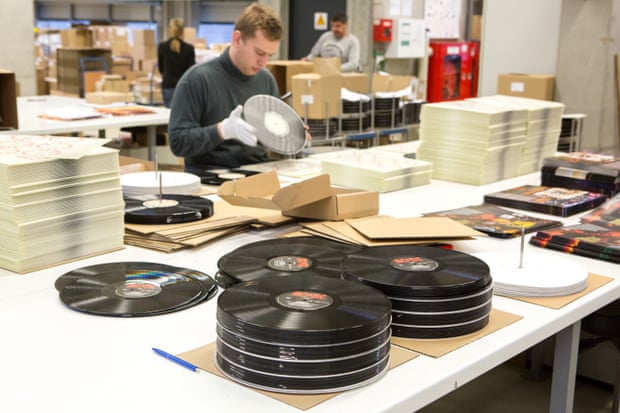 His sentiments are echoed by Tim Ingham, editor of Music Business Worldwide. "I wouldn't pay £25 for Oasis with extra tracks. I want it in the classic form it was released in," he says.
However, Ingham adds: "Record labels are making hay while the sun shines, [resulting in the perception] that it's a luxury 'lifestyle' item. But what's forgotten is that there are hidden costs – not just the materials but replacing antiquated vinyl presses."
That is the primary driver of prices, according to the industry: records are expensive to manufacture. There are few pressing plants left in the UK – even EMI's famous factory in west London is now a housing development – and most large orders have to be processed at plants in continental Europe. Compared with CD manufacturing, vinyl is a labour-intensive process, and each press produces only two records a minute.
So many British major labels use a plant in the Czech Republic, GZ Vinyl, that there's a six-month queue of orders. Sales director Michal Nemec says: "Don't forget that everything is manually operated, and then there's the cost of transportation. And there are licences and rights, which have to be counted into the merchant price."
HMV refused to comment on its prices. But Derry Watkins of Resident Records in Brighton, which makes half its profits from vinyl, argues that an £18 LP is cheaper in real terms than its 1970s equivalent.
"You'd have had to work twice as long to pay for an album then as you do now," says Watkins. "And, obviously, you don't get the economies of scale you do with CDs. Then you have the higher cost of the sleeve and inner sleeve – it's a low-margin product. Twenty per cent of the price is VAT, so if we were selling an album for £24, four of that is the VAT."
That doesn't cut much ice with Richard Allen, a 36-year-old office worker browsing Resident's well-stocked shelves. "I can't afford £20 an album, so the record companies won't get my money," he says. "I feel like they're pricing me out."
Does he think of vinyl as expensive because, thanks to cheap downloads, we've become used to paying almost nothing for music? "No, I just can't justify £20. I love vinyl, and if it was a little cheaper they could milk me for it."