Following the April 8 Rifftides post about Carol Sloane and Carmen McRae, Bill Kirchner sent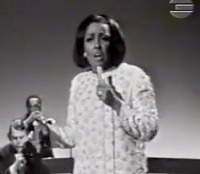 us a link to a German television program featuring McRae in 1968 with the formidable Clarke-Boland Big Band. Co-led by drummer Kenny Clarke and pianist-arranger-composer Francy Boland, the band was a collection of leading European and American musicians. It thrived for more than a decade in the 1960s and 1970s. It was notable for, among other things, having two drummers.
The members: Benny Bailey, Manfred Schoof, Idrees Sulieman, Jimmy Deuchar, trumpets; Åke Persson, Nat Peck, Eric Van Lier, trombone; Derek Humble, Tony Coe, Johnny Griffin, Ronnie Scott, Sahib Shihab saxophones; Jimmy Woode, bass; Francy Boland piano; Kenny Clare and Kenny Clarke, drums. Carmen is the guest artist, singing three numbers. She is introduced 15 minutes into the program by critic Joachim Berendt. Here is the entire 40-minute show.