Jazz guitarist Marty Grosz 85, keeps 'hot music' going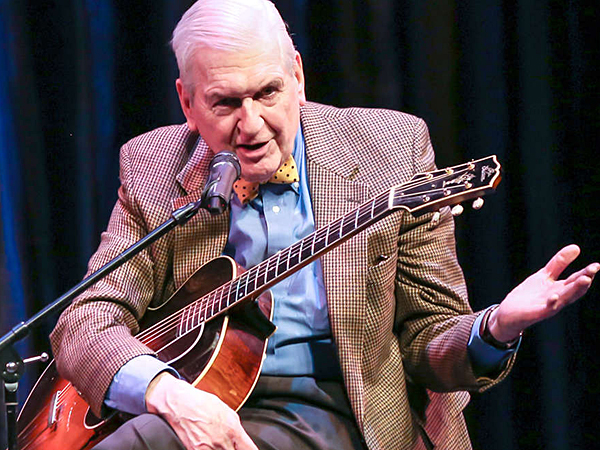 A.D. Amorosi, For The Inquirer
Posted: Friday, April 3, 2015, 3:01 AM

After a lengthy and hilarious discourse at his South Philadelphia home on all things swing and jazz, hot guitarist Marty Grosz, 85, says, "I hope I don't sound like a sour curmudgeon, which is probably what I am."
About to release his latest album, Diga Diga Doo – Marty Grosz Meets the Fat Babies: Hot Music from Chicago, the musician and singer says proudly that his art has always sought to entertain rather than lull audiences into a stupor with what he calls "egghead jazz."
"I've got a feel for 'hot music' – because if I call it jazz, people don't know what I'm talking about. I wouldn't know what I was talking about. In the '50s and '60s, we billed ourselves as 'jazz,' but even then it was problematic. Were you playing traditional, bebop, free-form?"
Grosz says jazz all too often "is what they teach in colleges, which gives way to dull, bombastic music with overly long, self-congratulatory solos – which gets you nowhere. It's guys playing 45-minute versions of 'All the Things You Are,' with only their pals and their girlfriends in the audience."
A virtuoso of the chordal acoustic guitar solo and passionate, driving rhythm, Grosz followed in the path of Benny Goodman, Count Basie, and Fats Waller.
"I like Louis Armstrong," he says. "I like Red Allen. I stuck with those guys. What they did was dance music, plain and simple."
The guitarist's father, German Expressionist icon George Grosz, brought his family from Germany to the United States in 1933. " 'Do you what you want to do,' that was my dad," he says. "He liked what I did. My mom was more like, 'You're going to plinky-plink in a band?' "
Grosz says there's a larger scene for hot-music swing bands and their audiences in Chicago than there is here, which is how he joined forces with that city's Fat Babies and Delmark Records honcho Bob Koester ("Who I have known since the Great Flood"). There's also a larger scene in New York ("Though no one's breaking down the doors there"). He's played with Vince Giordano, the guy behind HBO's Boardwalk Empire, and with the Hot Club of Philadelphia.
He's uncertain where the next generation of hot-music men and women will come from.
"Why would they bother? The stuff I like is dying, practically dead. For all practical purposes, all it needs is a headstone. The music of Jelly Roll Morton, Fletcher Henderson, and Sidney Bechet – where are the new guys? Where does this play? Who are the dance bands getting paid, and how is the tradition being pursued? There's no money in it. There are a few nutty devotees out there still trying – you'd have to be nuts to want to emulate Jack Teagarden's trombone sound. What's the motivation?"
Yet, here is Grosz, plugging away, making new albums and hitting the bars.
"I would like to reach a public," he says. "In my dotage, I'm beginning to think that what I do is closer to a bluegrass kind of jazz. Barrelhouse stuff. Bluegrass guys at least look like they're having fun, which is more than I can say for the kids playing jazz. Look, as long as I don't have to showboat, take myself seriously, and there's no drum solos or anything like that, I'm OK."
---
Marty Grosz plays at 8 p.m. Friday at the Mermaid Inn, 7673 Winston Rd., Chestnut Hill. Tickets: $10. Information: 215-247-9797, www.themermaidinn.net. Also, Grosz plays with trumpeter Peter Ecklund at 8 p.m., April 24, at Garrett Hill Ale House, 157 Garrett Ave., Bryn Mawr. Free. Information: 610-519-0500, www.garretthillalehouse.com