http://www.theguardian.com/music/2016/feb/10/jazz-movies-the-sound-of-film-to-come-how-jazz-fell-in-love-with-the-movies#_=_
The Sound Of Film To Come: how jazz fell in love with the movies
Allen Morrison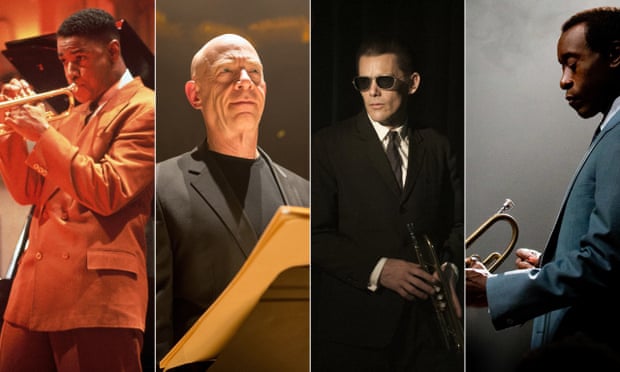 Jazz musicians will feature prominently in the movies in 2016, with the theatrical release of two highly anticipated films: Miles Ahead, Don Cheadle's homage to trumpet legend Miles Davis (1 April), and Canadian director Robert Budreau's Born to Be Blue, featuring Ethan Hawke as Chet Baker, the noted trumpeter, singer and style icon (25 March).
Both films were hits on the festival circuit and it's somehow fitting that the Davis and Baker films will compete for movie audiences, just as their namesakes competed in life. Baker beat both Davis and Clifford Brown in the trumpet category in the 1953 and 1954 DownBeat and Metronome magazine readers' polls; he was even initially touted in some corners as "The Great White Hope" of jazz trumpeters, which embarrassed Baker and didn't exactly endear him to Davis.
The two films strive for exacting fidelity to the music while trying to avoid the traditional biopic formula – and the tropes with which the cinema has portrayed jazz musicians over the past 90 years. Jazz on film has an erratic history, starting in 1927 with the first sound motion picture, The Jazz Singer. The landmark film featured Al Jolson, in and out of blackface, singing My Mammy, Blue Skies, and Waiting for the Robert E Lee, but contained nothing resembling jazz. Nevertheless, with its huge commercial success; it set the template for the depiction of jazz musicians in the movies: confused, inaccurate and not at all jazz. For several decades afterward, Hollywood was in love with the music but often confused, to put it mildly, about who deserved credit for originating this indigenous American art form.
A landmark of cultural appropriation was The Birth of the Blues (1941), featuring Bing Crosby as a Bourbon Street clarinetist who, after learning the music from a group of black jazz musicians – at least there's that – introduces Dixieland jazz to New Orleans cafe society. Crosby's musical numbers are fine, including legendary trombonist Jack Teagarden and a young Mary Martin, but don't expect blues – or historical accuracy.
In the 40s and 50s, many a big-budget Hollywood film would celebrate the lives of white jazz musicians, often with highly doctored life stories. Often they featured very appealing music, sometimes with African-American musicians in supporting roles. The list includes The Five Pennies (1959), starring Danny Kaye as Dixieland cornetist Red Nichols (there's a wonderful duet with Louis Armstrong); The Glenn Miller Story (1954), with Jimmy Stewart in the title role; The Benny Goodman Story (1956), starring the appropriately bespectacled Steve Allen, who was an actual jazz musician; and Young Man With a Horn (1950), with Kirk Douglas playing a character loosely based on trumpeter Bix Beiderbecke. The 1958 film St Louis Blues, starring Nat King Cole as "Father of the Blues" WC Handy, and featuring Ella Fitzgerald, Cab Calloway, Eartha Kitt and Pearl Bailey, was a notable exception to the white bio rule; and performed poorly at the box office.
Yet, while biopics about black jazz musicians were rare, other films, intended for a mostly African-American audience (sometimes called "race films") featured all-black casts – and some of the most important jazz musicians of the era. A 1935 one-reeler, Symphony in Black, featured Duke Ellington's Orchestra performing his extended piece, A Rhapsody of Negro Life; the film also introduced Billie Holiday and won an Academy Award for best musical short subject.
The 1940s saw Hollywood take a chance on Cabin in the Sky (1943), a musical fable that had been a hit on Broadway. It featured musical numbers by Ethel Waters, Lena Horne, and the Duke Ellington Orchestra. Stormy Weather (1943) starring dancer Bill Robinson and very loosely based on his life, also featured an all-black cast including Lena Horne, Cab Calloway, and unforgettable performances from Fats Waller and the Nicholas Brothers. New Orleans (1947), an interracial potboiler, was notable for a star turn by Billie Holiday as a singing maid and Louis Armstrong as her bandleader boyfriend (both in supporting roles). The preposterous story (the New York Times called it a "wretchedly routine romance") fades into insignificance when Holiday sings Do You Know What It Means to Miss New Orleans to Armstrong's accompaniment.
It wasn't until the 1950s that film-makers began to depict the life of jazz musicians more realistically – and to realize how incorporating jazz in film scores could add a feeling of excitement and modernism. Miles Davis, using a quintet he assembled in Paris, created the first improvised film score in history for Louis Malle's 1958 French thriller Elevator to the Gallows. The following year, Otto Preminger hired Duke Ellington to write his first film score at age 60, for Anatomy of a Murder; he won three Grammy awards for the music.
Since the 1960s there have been many notable films about jazz and jazz musicians. Five of my favorites are listed below. Considering the likely impact of the forthcoming Miles Ahead (with a score by Grammy winner Robert Glasper) and Born to be Blue, the list may have to be revised by the end of the year.
Five essential jazz films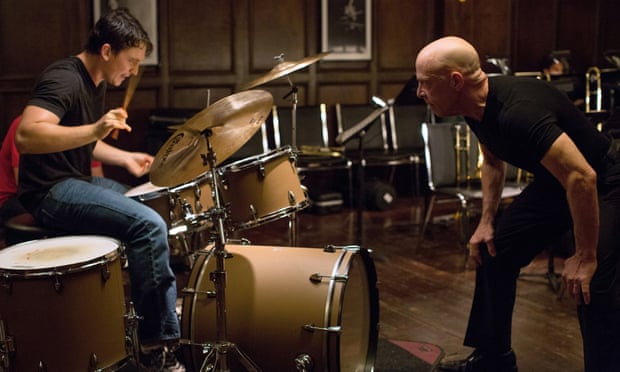 Whiplash: one of the rare jazz films that talks about learning an instrument. Photograph: Allstar/Bumhouse Productions
Round Midnight (1986)
Bertrand Tavernier's French-American film is almost in a class by itself. The lead character Dale Turner, an expatriate American jazzman living in Paris, is based on the life of legendary bebop piano player Bud Powell. He is played with startling authenticity by another expat musician, saxophonist Dexter Gordon, who hadn't previously acted in a movie but was nominated for an Oscar for his efforts. Herbie Hancock did win for Best Original Score.
Bird (1988)
Clint Eastwood's sensitive, overlong (two and a half hours) Charlie Parker biopic was a critical hit but tanked at the box office, possibly scaring studio execs from doing other films about jazz musicians for decades. The combination of original, sonically isolated Parker tracks with performances by contemporary jazz luminaries (pianists Barry Harris and Monty Alexander, trumpeter Jon Faddis, and bassists Ray Brown and Ron Carter) made the soundtrack a must.
Let's Get Lost (1988)
A haunting, one-of-a-kind documentary homage to Chet Baker by the fashion photographer Bruce Weber. A poetic mix of found footage of the young Baker with interviews featuring Baker's ex-wives, friends and colleagues, and with the physically ravaged Baker himself near the end of his life. Gorgeously photographed in black and white, the film only deepens the mysteries of how the free-living, self-destructive – some would say, sociopathic – Baker produced such sublime music.
Chico and Rita (2010)
With a score by the legendary Cuban pianist Bebo Valdés and additional music by Thelonious Monk, Dizzy Gillespie and Charlie Parker, this visually stunning animated film for adults sets a decades-long story of romantic yearning (based on Valdés's life) against the historical backdrop of the Havana-New York connection that changed the course of modern jazz.
Whiplash (2014)
One of the few movies ever to acknowledge that great jazz musicians have to undergo jazz education. Although it's controversial among jazz fans for its unrealistic depiction of a sadistic jazz educator, it is cinematically breathtaking and contains a great and varied score.